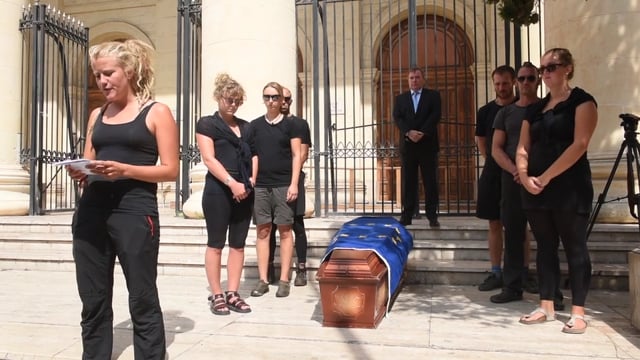 Symbolic funeral in Valletta accompanies Lifeline captain to court
Crew members of MV Lifeline and Seawatch 3, led by Captain Claus-Peter Reisch this morning carried a coffin draped in the EU flag from Castille Square down to the law courts in Valletta on Thursday morning.
The members held the symbolic funeral to protest ongoing court action against Reisch, the captain of the Lifeline, a rescue vessel. The symbolic protest was meant to highlight the 'death' of EU legislation.
Reisch is facing charges in a Maltese court over the ship's irregular registration. The Lifeline was accused of acting as a rescue vessel when it is registered as a pleasure craft in the Netherlands.
Reisch will appear in court today as the case continues.
READ MORE: Lifeline captain exhibits German humanitarian award in court
While walking down Republic Street, crew members gave out flyers. When they arrived at Court, they also put flowers near the coffin.
The crew members are also protesting the government's decision to not allow the two vessels to leave Malta. The government is claiming that the two vessels are not properly registered in the Netherlands as rescue ships. The NGO-operated migrant ships have been carrying out search and rescue operations just off Libyan waters.
Sea Watch said they held the symbolic funeral to mark the death of human rights in Malta.
This funeral is merely a drop in the ocean compared to over 1500 deaths that have occured in the Mediterranean since January, of those fleeing in search of safety," the NGO said.