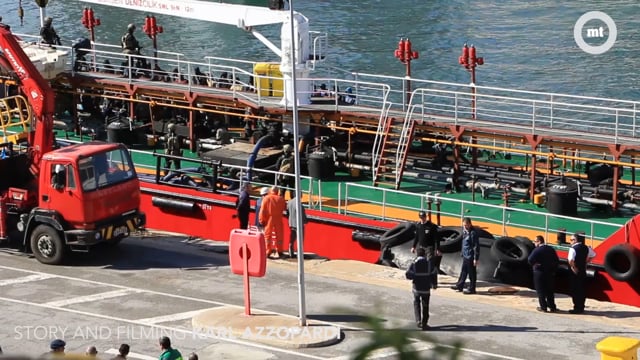 MIgrants disembarking from commandeered ship
Updated at 5.50pm with official number of migrants on board the ship
A merchant ship overpowered by the boat migrants it had rescued in Libyan waters has docked at Boiler Wharf in Malta on Thursday morning.
100 people were boarded off the tanker, of whom 38 were men, 15 women and 47 claimed to be minors. Five men, believed to have been behind the ship's takeover, have been arrested and taken for questioning. They were seen handcuffed and escorted away in a police van.
A pregnant woman and a child were taken to Mater Dei Hospital for further medical observation, while the rest of the immigrants were escorted to the Marsa Initial Reception Centre.
The tanker had earlier been boarded by the Armed Forces of Malta to wrest back control of the ship when it was overpowered in Libyan territorial waters after attempting to turn the rescued migrants back to Libya.
"The Armed Forces of Malta established communications with the captain of tanker El Hibru 1 when it was about 30NM away and still proceeding towards Malta. The captain repeatedly stated that he was not in control of the vessel and that he and his crew were being forced and threatened by a number of migrants to proceed to Malta," the AFM said.
AFM Patrol Vessel P21 stopped the tanker from entering Maltese territorial waters. A Special Operations Unit team boarded the vessel, backed up by AFM Patrol Vessel P51, two Fast Interceptor Craft, and one the AFM's AW 139 helicopters. P21 kept on escorting and monitoring the tanker throughout the operation.
Refugees and migrants say they are beaten, raped and even sold as slaves in Libya. They are tortured by smuggling gangs in order to extort more money from their families back home. "No state can expel or push back refugees to countries in which their lives and liberty would be under threat," said Mediterranea Saving Lives, a humanitarian NGO.
Sending the migrants back to Libya would constitute "not just a crime but an act of inhumanity. The ship should be immediately assigned a safe port in a European country where these people's human rights will be guaranteed. They should not be treated like 'pirates' or criminals, but as asylum seekers who are fleeing the hell of detention camps in Libya," the NGO said.
NGO Sea-Eye said only the Libyan Coast Guard is expected to rescue migrants in the Mediterranean, which it said put crew members of the El Hiblu 1 in a difficult situation. "The EU is putting an end to sea rescue; the Libyan Coast Guard is out of order; merchant ships must rescue and bring totally frightened people back to Libya, to become agents of illegal repatriation. The rescued persons have gone through hell and are now facing completely overwhelmed and unprepared crew members of a cargo ship, who have to explain to them that they are being returned to exactly the place they were trying to escape by risking their lives. The EU will have to take responsibility for this renewed escalation, if cargo ships have to take on government responsibilities which the Libyan Coast Guard is often unable to fulfill," said Gorden Isler, spokesman for Sea-Eye.
La Repubblica reported that the ship was hijacked by the migrants upon learning that they were being taken back to Libya. The hijacking reportedly took place when the vessel was just six miles from the Libyan coast, and not in international waters.
"They will certainly not enter Italy," Italian Home Affairs Minister Matteo Salvini was reported saying. "This is no longer a rescue but will be the first act of piracy on the high seas."
The AFM also confirmed that the ship had set sail from Turkey and carries a majority of Turkish nationals amongst its crew. Their condition is as yet unknown.