All set for another, 'more immersive,' Notte Bianca
Part of the three-year journey towards "V18 – European Capital of Culture", this year's Notte Bianca was organised in collaboration with the Valletta 18 Foundation. This year the organisers promise a Notte Bianca striding into the world of new and digital media, promising "a more immersive experience."
Notte Bianca, Malta's popular one-night arts and culture festival, is all set to take over Valletta again. This year's festival promises to make the capital's streets and cultural venues come alive thanks to a carefully designed programme of events offering a variety of entertainments and experiences.
The event, which will take place on Saturday the 1st of October is a joint effort by the Notte Bianca team and the Arts Council Malta.
"It has been our mission to make Notte Bianca a truly inclusive cultural experience from every aspect," explained Sean Buhagiar, the Artistic Director of Notte Bianca Valletta. "That is why this year's edition of the festival is bigger and more expansive. We have over 1,000 artists, entertainers, organisers and creatives contributing to this unforgettable night. The festival is further expanding outside the walls of Valletta, making use of the harbour and the Three Cities, with events taking place in and around the ferries and public transport areas in order for the Notte Bianca experience to begin as soon as you start your journey into the city. We are even planning live social-media coverage, so those who cannot be physically present in the city can still immerse themselves in all of the festivities. Notte Bianca has always been a festival for the people, and it is our hope that this year we will continue to improve on that tradition."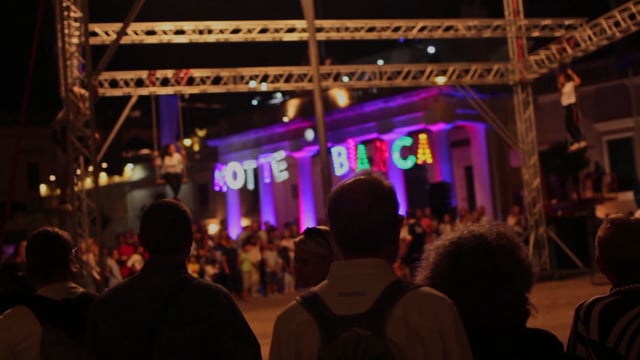 Promotional video for this year' s Notte Bianca
Part of the three-year journey towards "V18 – European Capital of Culture", this year's Notte Bianca was organised in collaboration with the Valletta 18 Foundation. This year the organisers promise a Notte Bianca striding into the world of new and digital media, promising "a more immersive experience."
Among the events is Design4DCity, an experiment in the sharing of knowledge and common space. Berlin-based activists Urban Action will be holding a four-day workshop that will culminate in a presentation concerning ideas for a better, more engaging, urban environment. Design4DCity will see Paris-based Nanotak Studio make their Malta debut. The duo is famous for creating ethereal, immersive and dreamlike sound and light environments meant to envelop its viewers.
Other digital media events include Fil-Kju, which will transform parts of Valletta into an augmented reality experience. By scanning specially placed codes into their smartphones, visitors will discover hidden stashes of poetry littered all around Valletta. Interactive installation Ġejja Dgħajsa will explore meaning and symbolism attributed to boats. The installation will use floating paper boats attached to metal stalks, which glow and move at the slightest touch. Planċieri Diġitali is a virtual reality painting experience that will combine art old and new. A number of traditional artists from different backgrounds will be thrust into the digital world in order to explore their art in three dimensions.
After its great success last year, Karaoke ta' Vera returns and will offer participants a unique opportunity to sing a song of their choice accompanied by a real, live band. ŻiffaŻfin also returns with a focus on contemporary dance. Expect to see hip-hop, parkour, and even street dance flash mobs all over Valletta. And as 2016 saw the passing of two monumental music legends, music fans can enjoy a unique guitar tribute to David Bowie and Prince in Saħħa Bowie, Saħħa Prince.
Atmosfera, the programme of ancillary events inspired by the city's pulsating heart, will also be contributing to make the night a success. Churches, state palaces and museums will be opening their doors to visitors until the early hours, with many playing host to art exhibitions and performances. Streets and piazzas will be transformed into venues for open-air theatrics and concerts, while many cafes and restaurants will extend their hours and also run pavement stalls.
For the first time this year, those who crossing to Valletta on a ferry boat from one of the three cities will also be able to enjoy some music while they wait their turn. There will be classical music in Bormla, rock music in Senglea and traditional folk in Birgu. The Inquisitor's Palace, the Maritime Museum as well as Fort St Angelo will also be open to the public.
More information is available at www.nottebiancamalta.org.mt
Notte Bianca is organised by Arts Council Malta under the Ministry for Justice, Culture and Local Government, with the support of Valletta 2018 Foundation, Valletta Local Council, TVM and MSV Life.