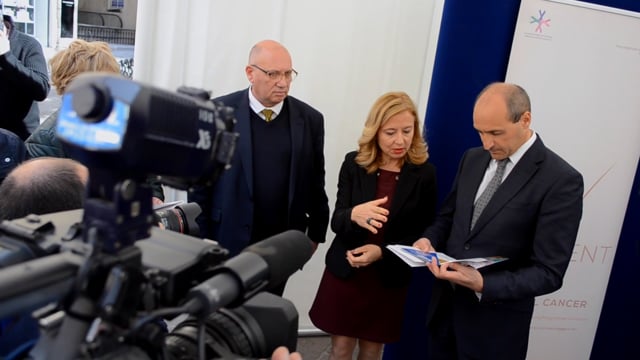 Cervical cancer screening programme launched
A cervical cancer screening project was launched today, in an effort to identify occurrences of the disease and begin treatment as soon as possible.
Parliamentary secretary for health Chris Fearne launched the project, alongside Stephanie Xuereb, head of the national screening unit, and Deputy clinical chairman Profs Yves Muscat Baron.
Invitations to get screened had started to be sent out last October, with a 30% response rate, but the project aims to increase that response rate, reaching out to women between 25 and 35 years of age, who can visit their local health centre to be screened. Some 11,000 invitations are expected to be sent in one year, to a cohort of some 30,000 women.
Xuereb emphasized the importance of early screening for cervical cancer, a particularly aggressive cancer that affected young women in particular, and urged women to speak up immediately if they had any concerns about their reproductive health.
Fearne said that every year 10 to 15 women are diagnosed with cervical cancer in Malta, with around half of the cases resulting in fatalities.
"The earlier the diagnosis is made, the easier it will be to treat these cases, and a reduction of mortality rates due to cancer has been noted in other countries," Fearne said, adding that in the UK, screening had led to a 40% drop in mortality.
He added that screening was designed to detect even early, borderline cases, which were very treatable, and that earlier detection was also essential to preserve fertility in young women.
Xuereb added that the screening service was the third such programme launched locally, with people already receiving invitations for free screening services for breast and colorectal cancer.
"We will be launching a month long campaign that will include TV, radio and newspaper slots as well as SMS alerts and social media campaigns to alert encourage women to take up the offer," Xuereb said.
Fearne added that so far just over 2,200 women born in 1980 had been invited for the tests and that the invitation roll-out would continue with women of different ages over the coming months.
"Every woman will be invited for the smear test every three years," he said.