[WATCH] Busuttil insists Josie Muscat will toe party line
The 74-year-old PN hardliner – who has in the past denigrated female victims of domestic violence and criticised same-sex unions – will contest the election for the PN on the Labour-dominated southern districts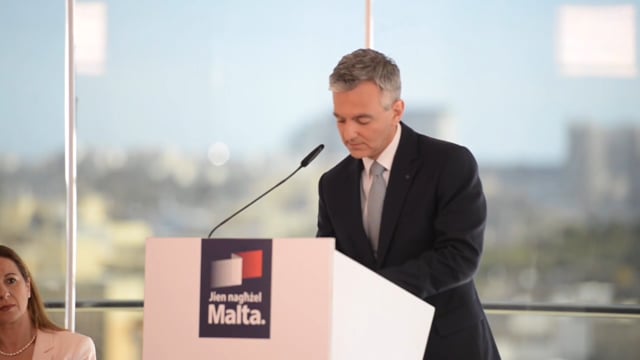 Former Nationalist MP Josie Muscat will be expected to toe the party line on all issues and to deliver a message consistent with the values and principles of the PN, party leader Simon Busuttil said this morning.
Busuttil, who was addressing a press conference during which he announced new proposals for the 3 June election, said that the PN had approved the candidacy of former PN MP Josie Muscat because it was convinced that he would represent the party well.
The 74-year-old PN hardliner from the Labour-dominated southern districts formed the Front Freedom Fighters after the 1981 election when Labour was re-elected with a majority of seats but not a majority of votes.
The grouping was a form of resistance action against Labour's authoritarian elements but its members were sympathisers of European fascism.
Muscat withdrew from the political limelight after 1987 and went on to build a successful medical business, particularly in the treatment of infertility. He is currently chairman of St James Hospital.
When MaltaToday pointed out that Muscat had once claimed that female victims of domestic violence often provoked the men into battering them, Busuttil said he was aware of what Muscat had said.
"I know that Josie and the PN did not always see eye to eye, as in the case of EU membership. But I firmly believe that, now that he has accepted to run under the PN ticket, Josie will keep his word and toe the line on this issue, same-sex unions and other matters," he said.
Busuttil said that the PN would soon be presenting a number of proposals on how to better deal with domestic violence, which he said was a "big wound hurting our society".
"And let us not forget that there are some in the National Force, like the Democratic Party, who might not agree with the PN on all issues, but who were willing to put aside their differences in a bid to present a united alternative to this tainted and corrupt government."
"Attorney General should publish FIAU reports"
He once again called on Attorney General Peter Grech to publish all reports compiled by the Financial Investigations and Analysis Unit and to recognise that his loyalty and oath was to the constitution and the people and not to a few individuals in Castille.
"The Attorney General finds himself in the untenable position of being the legal representative of the government and finding himself in possession of reports proving that three top government officials are corrupt," Busuttil said.
"I have nothing against Grech personally, but I believe people should have some backbone and stand up for what they know to be right, and if he's not willing to do that, then someone should pass the reports to me and I will publish them."