[WATCH] Godfrey Farrugia to contest elections with Partit Demokratiku
Former Government Whip Godfrey Farrugia is to contest the election with the Partit Demokratiku, on the Nationalist Party ticket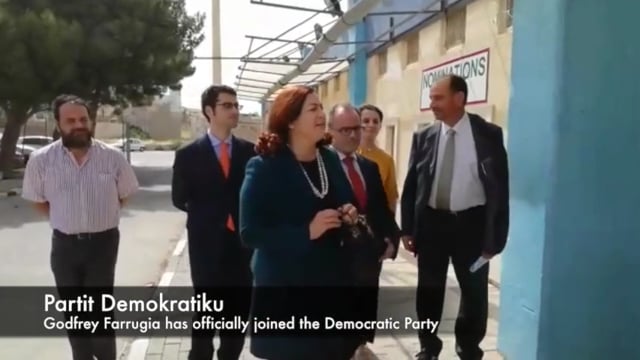 Godfrey Farrugia officially joins the Democratic Party
The Labour government's former whip Godfrey Farrugia is to contest the election with the Partit Demokratiku, on a PN ticket, after officially resigning from the Labour Party earlier this morning.
Accompanied by PD leader and partner Marlene Farrugia, the family doctor submitted his nomination to the Electoral Commission, confirming that he will be running on districts six and seven.
Standing outside the counting hall in Naxxar, Godfrey Farrugia reiterated that the Labour Party had betrayed the 'Malta Taghna Lkoll' pledge, going against his belief of clean politics.
During a press conference in Gozo, Labour leader Joseph Muscat would not be drawn into commenting over Godfrey Farrugia's defection.
Asked by MaltaToday whether Godfrey Farrugia's decision reflected badly upon the Labour government, Muscat simply insisted that he "wished Godfrey well".
Marlene Farrugia urged the electorate to vote for the PN-PD coalition, arguing that this would be present "a national force" which fights for good governance and a democratic government that leads with a social conscience. "People don't want the PN government they dethroned four years ago," she added.
Farrugia submitted his resignation from the Labour Party "with immediate effect", increasing speculation that he will contest the general election with the Partit Demokratiku, led by his partner and former PL MP Marlene Farrugia. The PD candidates are running on the PN ticket following an agreement reached between the two leaders.
After submitting the necessary paperwork, his next stop was the PN headquarters in Pieta', where a visibly moved Farrugia was given a warm welcome by senior PN officials.
Marlene Farrugia yesterday said that negotiations with Farrugia were "still underway", after announcing that will be contesting districts 5 and 10, going back on an original announcement that she would be running on District 7 - a district which includes Godfrey Farrugia's hometown of Haz-Zebbug.
In the letter, which was addressed to the president of the Labour Party, Farrugia said he was stepping down from all Labour structures because he felt the party had lost its soul.
Farrugia, a former Health Minister and whip quoted author and former PL politician Guże Ellul Mercer to explain his decision: "I'm in the workers' party because it is built on noble principles: it believes that a human being should live as a human being, work as and feed himself as a human being... whether he's been born into a rich or poor family."
Two weeks ago, the MP had stepped down from his party whip post, writing the Prime Minister a strongly-worded open letter, saying that while he considered himself a Labourite "I do not feel I belong there."