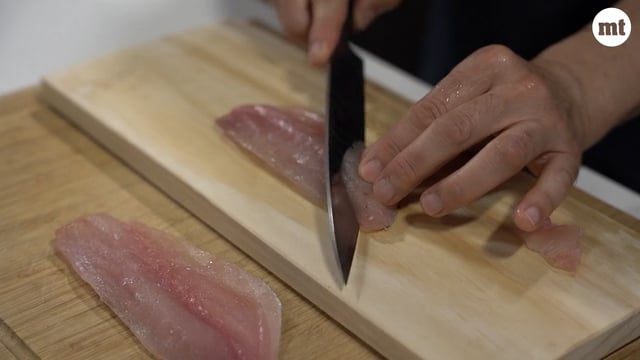 Sea bass, mullet, bazuk and cuttlefish. You will rarely find these Mediterranean fish being used in sushi restaurants across Malta. But Tajima, a Japanese-born Dutch-based sushi chef, is looking to create a new niche in the market by using locally caught fish in his maki and nigiri.
"Malta has such nice fish, it's amazing quality fish," Tajima said in an interview with MaltaToday. "A lot of Maltese sushi culture emulates Western-style sushi, but I'm more interested in Japanese-style sushi."
Despite Malta's rich maritime heritage, its indigenous fish varieties - the sea bream, mullet, and cuttlefish - had yet to find their place in the sushi scene. Tajima saw an opportunity to bridge the gap between Maltese traditions and Japanese culinary finesse.
He compared his sushi to those found in leading local restaurants, which tend to be dominated by imported seafood. While this brought a certain novelty, it also distanced the cuisine from its roots and overlooked the flavours that were waiting to be discovered locally.
"I checked a lot of sushi websites and menus here, and they use a lot of Western-style sushi. Sometimes they add mayonnaise and use a lot of salmon, tuna and avocado. Maybe because it's photogenic, or rather, insta-friendly in a way."
A key difference between Western and Japanese sushi is the choice of fish. In Japan, sushi chefs use the freshest fish possible and use modest amounts of soy sauce and wasabi to bring out the natural flavours of the fish. Western-style sushi uses a wider range of ingredients beyond traditional fish, including cream cheese, avocado and cucumber.
"Maybe Japanese sushi doesn't have as strong a taste as Western sushi, but you can feel the freshness of the sea better," he said.
While Malta has a rich seafood culture, this is yet to translate into the local sushi scene. Tajima said that this could be down to a lack of knowledge on the availability of fresh fish that can be used in sushi.
"Maltese fish come in different sizes, from big fish like tuna to the smaller ones. The small ones can be very good in sushi, but it takes time. Production-wise it's not very efficient, but I like to use these smaller fish."
According to Tajima, the mullet is a good fish to use, with its pink pigment providing a visual pop that enhances the aesthetic appeal of the sushi. "It's easily spottable in Malta, and it tastes very good to eat."
At the MaltaToday studio, Tajima carefully crafted some nigiri using a smoky charred bazuk and fresh raw sea bream. To enhance the 'umami', some of the fish for the nigiri was marinated beforehand, infusing each piece with an extra layer of flavour.
In one dish, he paired cuttlefish with a drizzle of lime juice and a pinch of salt, elevating the sushi with a refreshing kick.
By incorporating fresh local fish into traditional sushi dishes, Tajima hopes to create a harmonious fusion of flavours that pays homage to Malta's history while offering a fresh perspective to the local sushi scene.
Indeed, he is now exploring the idea of creating a pop-up concept for his catering to introduce more people to this fusion of Mediterranean fish and Japanese-style sushi.
"I think it's time to start introducing more Japanese style sushis," he said. "It would be nice to see Maltese fish used more in sushi, and I hope to be part of this 'movement' of sorts."