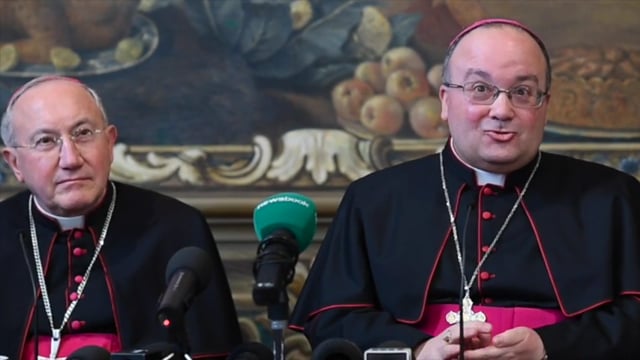 New archbishop says faithful 'will get Charles Scicluna' • Video Ray Attard
New Archbishop Charles Scicluna has promised not to change as a result of his new role. "You will get Charles Scicluna," he told a press conference.
Mgr Charles Scicluna, 55, was Apostolic Administrator since the resignation of Archbishop Emeritus Paul Cremona in 2014.
"I need to be myself and I will be myself. You will get Charles Scicluna," he said.
Scicluna's appointment follows years of service at the Vatican where he was Promoter of Justice in the Congregation for the Doctrine of the Faith, by the side of Cardinal Joseph Ratzinger, who became Pope Benedict XVI.
Among numerous challenges that he will be facing as a result of his new role at the helm of the Maltese Diocese, Scicluna has the unenviable task of addressing the Curia's annual financial deficit of €500,000.
"I don't like shaking up people but we do need to restructure Curia to achieve efficiency, doing it in a way that would reduce the €500,000 recurrent deficit. This worries me and we need to go through a reform that saves us unnecessary expenses," Scicluna said.
"But before I can tell you example what we are going to do, I need to listen to the people who have already worked hard on proposing reforms and compiling reports. An important exercise on Curia restructuring and reform has already been done and we now we have to implement what is needed."
Scicluna learned of his appointment on Sunday afternoon – after finding several missed calls from the Apostolic Nuncio and finally visiting him at his residence in Rabat.
Cracking jokes several times during the press conference, Scicluna said he barely slept ever since Aldo Cavalli spoke to him on Sunday.
"I found three missed calls from the Apostolic Nuncio but I had mass to celebrate, so I decided I would return the calls later. In fact, the missed calls had increased from three to several," he said.
Visiting the Apostolic Nuncio at his residence, the latter asked him to sit down and delivered the news. "At that moment I felt at peace … wish I could say the same for the sleepless nights that followed," he quipped.
Scicluna said he wanted to continue living with his parents while the official residences should serve as "open homes" for meetings with priests and chaplains.
Joking that his short stature may make it difficult for his audience to see him, "the most important thing is that I can listen to you and you can listen to us".
"I won't have the authority to speak to you if I don't listen to you first. I have been here since 2012 but I feel that I should listen to you again now, as archbishop. I will listen to the people, understand that God's will is also in people's hearts."
In a statement, President Marie-Louise Coleiro Preca congratulated Scicluna and said that she is looking forward to future collaborations with him in the interest of the Maltese society.
Scicluna tasked with the Church's fight against sexual abuse by priests. Scicluna is also president of a Vatican College which will consider appeals moved before the Congregation for the Doctrine of the Faith related to serious offences by priests.

Born in Toronto, Canada, Scicluna came to Malta with his family in 1960 and was educated at St Aloysius College and the University of Malta from where he graduated as a lawyer and in theology. He was ordained a priest in 1986.

Between 1990 and 1995, he was defender of the bond and promoter of justice at Metropolitan Court of Malta, Professor of Pastoral Theology and Canon Law at the local Faculty of Theology and Vice-Rector of the Major Seminary of the Archdiocese. His pastoral activities included service at the parishes of St. Gregory the Great in Sliema and Transfiguration in Iklin. He served as chaplain to the local Convent of St. Catherine.

In 1995 he began his career in the Congregation for the Doctrine of the Faith, constructing the 2010 universal norms that extended the Church's statutes of limitations on reporting cases of sexual abuse.