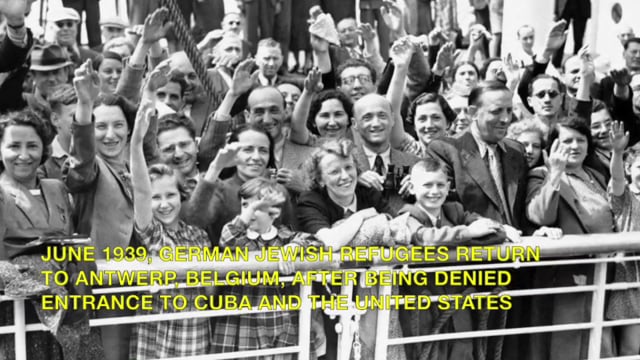 Holocaust survivor Nico Kamp saw his family perish in Auschwitz
Nico Kamp, who spent his childhood living in hiding in the Netherlands and whose father and grandparents were executed in Nazi concentration camps, said it his duty to pass on his experiences and warned that the Holocaust can happen again.
"It is my duty, and I promised my mother, to talk about what happened during the war…things have happened and things can happen again. Anti-Semitism will not perish and all we can do is recount what happened," Kamp said during an informal meeting with journalists at the San Anton Palace in Attard.
Kamp is in Malta, together with three other Holocaust survivors, upon the invitation of the President's Foundation for the Wellbeing of Society.
"I cannot describe the feeling of a child who was sent from one place to another, calling people you don't know aunt and uncle, missing your parents. That is the memory I have but I treasure the love of my mother who fought her way through the concentration camps to go back to her two sons," the 80-year-old said.
Fearing Nazi persecution, Kamp's family moved to the Netherlands in 1935 hoping the country would remain neutral as it did in World War I. However, five years later the country was occupied by the Nazis and his parents decided to send their two sons, Nico and his elder brother Rolf in the countryside where they lived in hiding, moving from one farm to another in the hope that they would not be betrayed by their hosts.
"I don't know how, but my brother an I always got from one place to another," he said, explaining that they did this at great risk for their lives and the farmers who hid them.
The Netherlands, still reeling from the pre-WWII recession, was a poor country and the Nazis offered handsome rewards to anyone who handed in Jews.
Indeed, Kamp's parents and grandparents were betrayed and handed over to the Nazis in April 1944.
They were first sent to a transit camp in Westerbork from where they were then sent to concentration camps in Poland and Germany.
His parents were sent to Auschwitz where his mum was imprisoned with Anne Frank. His father was gassed the day he arrived in Auschwitz.
"My mum, a strong woman, always good humoured and very charismatic, came back from Auschwitz, she was lucky, and we found each other on 13 June 1945 when I was 8 years old."
His grandparents were not as lucky. His grandfather was hanged on 1 January 1945 and his grandmother was starved to death at the Bergen-Belsen concentration camp.
Kamp, whose wife was also hidden for years in Amsterdam, is a retired diplomat having served the Netherlands for some 50 years in Italy.
Two other survivors Petra and Franz Michalski, recounted how his family went into hiding just minutes before the Gestapo arrived to arrest them.
They survived with the help of courageous German individuals who helped them escape to Austria.
During their stay in Malta, were they will be joined by another survivor from Rhodes, the Michalskis and kamp will be meeting school children to pass on their experiences.