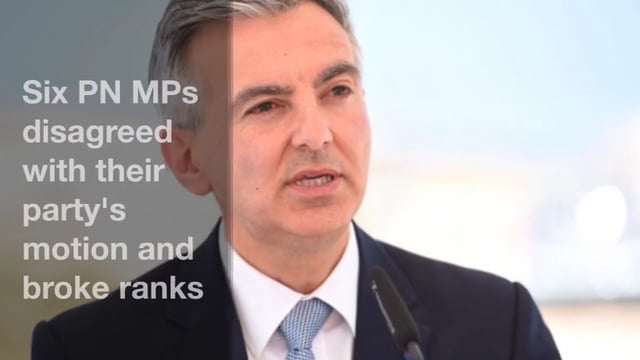 Six PN MPs broke ranks with their party and now face a backlash
They stayed away from Parliament not to cast a vote with the government side but Simon Busuttil, Mario de Marco, Karol Aquilina, Karl Gouder, Therese Comodini Cachia and Chris Said now have to contend with the fury of party supporters.
The six PN MPs disagreed with the motion put forward by their own party to strike down a law that granted people undergoing IVF treatment 100 hours of leave. They insisted the leave was a social measure to help people when at their most vulnerable.
READ ALSO: PN's IVF leave motion defeated after Busuttil and MPs stay away from vote
But having been denied a free vote on the matter, the MPs chose to stay away from the vote on Wednesday evening. As exepcted the motion was defeated after the government side and Democratic Party MP Godfrey Farrugia voted against.
However, the six now face flak from PN supporters, who accuse them of betrayal and sowing discord because of their opposition to leader Adrian Delia.
In one of the more pointed reactions posted on the Facebook wall of MP Karl Gouder, Sliema councillor Pierre Portelli - a fervent Delia campaigner - said the rebels were "grasping at anything they could" for the past two months, accusing them of acting as if they were "holier than thou" while branding others as "scum".
In another Facebook post on Chris Said's wall, a miffed supporter asked him whether he had lost his moral compass by not supporting the party motion.
On Karol Aquilina's wall someone told the Siggiewi MP what he thought of his actions: "We've had enough of you".
The PN has faced dissent within the parliamentary group since Delia became leader but this was the first time that rebel MPs took a public stand against the wishes of their leader.