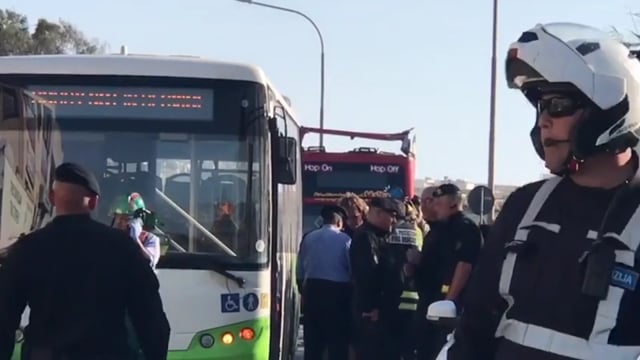 Open-top bus accident in Żurrieq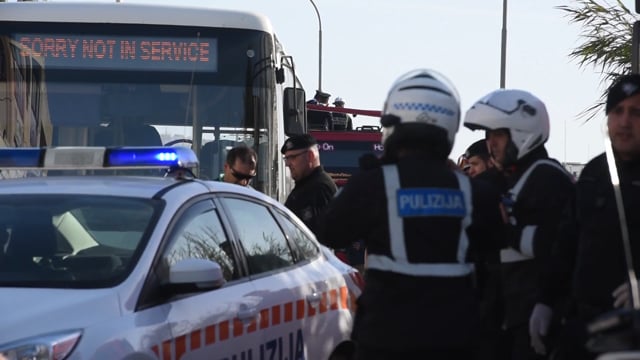 Two dead after open-top double-decker hits tree in Żurrieq
Two people have died after an open-top bus hit a low-lying tree in Valletta Road, Żurrieq. The tourists - a 62-year-old Belgian man and a 37-year-old Spanish woman - were on the top deck of the bus.
Six other tourists, including children, who were on the top deck of the hop-on hop-off bus were critically injured.
Initial reports suggest that the low-lying branches may have been dislodged last night by the strong winds.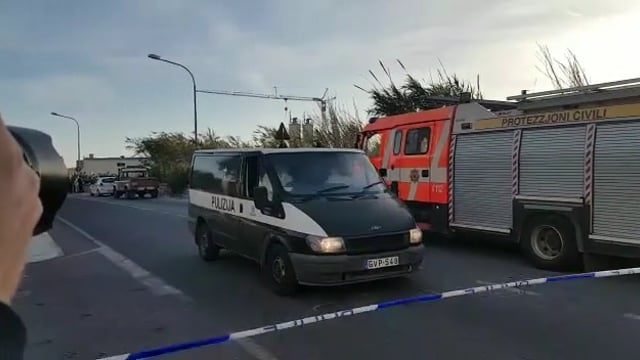 A police hearse transporting one of the victims to the hospital morgue
The bar just in front of the first row seats on the top deck where the branches hit was twisted. The tourist bus was driven by a 24-year-old man, the police said in a statement. The bodies of the dead tourists were lifted from the top deck by a crane, with emergency workers covering the area of operation with a large white sheet.
Visibly shocked relatives of those who were injured were taken to hospital for psychological support
Addressing a press conference later in the evening, Health minister Chris Fearne said ambulances had made 17 trips to and from the accident site and that a total of 50 patients had required medical attention. They were taken to Mater Dei's emergency department and the Paola health centre, he said.
All those receiving medical attention were foreign, the minister said, adding that there were 12 children at the emergency department, two of whom were currently in intensive care. A total of four people were in a critical condition, he said.
A spokesman for Mater Dei hospital said a major incident alert was initiated and six ambulances were dispatched on site, along with a team of emergency doctors.
The hospital has asked people not to go to the emergency department if not absolutely necessary.
Transport Malta executive chairman James Piscopo said the authority was monitoring the situation in a tweet where he expressed solidarity with the families of the victims.
The police are investigating the incident and a magisterial inquiry led by duty magistrate Monica Vella has been launched.