[WATCH] Police solidarity march draws the crowds in Valletta
Police officer Simon Schembri was nearly killed on Tuesday when he was intentionally run over by a 17-year-old driver • The incident has sparked a groundswell of support with thousands attending a solidarity march organised by the two police unions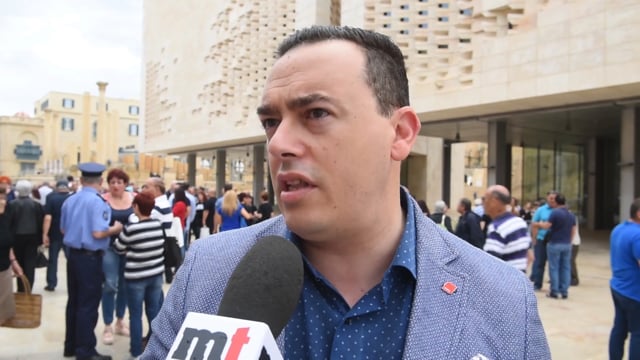 Police solidarity march draws the crowds in Valletta
The Malta Police Force held a solidarity march this morning in the aftermath of an attack on one of their own.
This was the first ever public demonstration of its kind by the police, a situation made possible after people in a disciplined corps were allowed to join a union four years ago.

Constable Simon Schembri was nearly killed on Tuesday when he was intentionally run over by a 17-year-old driver, suffering a collapsed lung and fractures to his pelvis and ribs. Schembri's right arm had to be amputated below the elbow as a result of the injuries sustained.
The youth who ran Schembri over was charged with attempted murder and 22 other charges, including breaching traffic regulations, driving a car without a number plate and recidivism. He was denied bail.
The case sent shockwaves through the nation and has launched a groundswell of support for the police force. Thousands of people, including representatives of organisations, joined police officials for a solidarity march on Saturday morning.
President Marie-Louise Coleiro Preca and Prime Minister Joseph Muscat, various cabinet ministers, Opposition Leader Adrian Delia, Nationalist and Labour MPs and Commissioner of Police Lawrence Cutajar were among those attending the march in Valletta. All political parties are supporting the march. Speaker Anġlu Farrugia, a former police officer, also attended.
Several police officers present during the march expressed their frustration with the case and urged the community to respect their work, saying that no one should go out for a day's work and not return.
Police Officers Union President, Sandro Camilleri thanked those who attended the march and the Maltese people for the support shown towards constable Simon Schembri and the police force.
Camilleri claimed that the incident was an escalation of the risks faced by officers. Recent events showed that despite the decrease in criminality, a hefty price was being paid by the officers in charge of safeguarding public order, he said.
"Our work is becoming very dangerous, we are being attacked both verbally and physically, our morale is low," Camilleri said.
Police Commisioner, Lawrence Cutajar, expressed solidarity with Schembri's family, assuring them that the police force will do its utmost to help them both financially and psychologically.
When asked about the issue of insuring police officers, Cutajar said that work on the topic was ongoing but added that such a reform could not be done hastily.
"I have to admit that in my 30 year experience working in the police force, due to various factors, the respect towards officers has diminished but this is another day on the job for us," Cutajar said.
"In my opinion, the police force has made great strides forward and this case should not hurt our motivation to go on."