[WATCH] Simon Busuttil sticks to outraged tweet on stunning Panama appeal verdict
Despite his vociferous reaction on Twitter to yesterday's court decision, branding his allegations on government officials as nothing more than 'speculation', former PN leader Simon Busuttil spurns the press when asking for a comment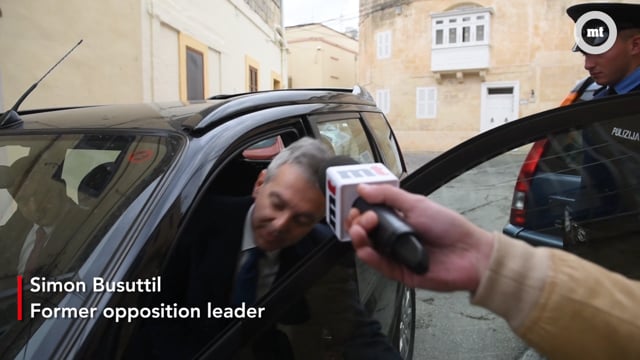 Simon Busuttil unwilling to talk to press on Panama Papers appeal
Former Opposition leader Simon Busuttil has stuck to his initial reaction on Twitter on Tuesday evening, after an Appeals Court overturned a magistrate's decision for an inquest into the Panama Papers scandal that implicated top brass in the Labour government.
The inquiry was requested by Simon Busuttil back in 2017, following the Panama Papers revelations, asking the court to investigate government officials: tourism minister Konrad Mizzi, Prime Minister Joseph Muscat, OPM chief of staff Keith Schembri, as well as businesspeople Brian Tonna, Karl Cini, Malcolm Scerri and Adrian Hillman apropos money laundering allegations.
READ MORE: Appeals court throws out order for Panama Papers investigation
But Judge Grixti came down on Busuttil's allegations, dismissing them as "speculation" and that the facts he presented did not to amount to criminal acts.
MaltaToday's attempts to ask for a comment from Busuttil, who never filed a criminal complaint when the Panama Papers broke in 2016 but took the allegations to an inquiring magistrate after the 2017 election loss, were met with a curt reply. "This is a private residence. If you want to ask a question, come to the PN headquarters," Busuttil told MaltaToday outside his home.
In a WhatsApp message, Busuttil subsequently said he would not elaborate on his first reaction on Twitter: "Mizzi and Schembri were caught RED-HANDED with a secret Panama company to pocket €5,000 a day. Where can we go for justice to be served in Malta?"
But Judge Giovanni Grixti came down heavy on Simon Busuttil in yesterday's decision. He said: "In recounting many occasions, [Busuttil] sees an ulterior motive behind everything, which he is at liberty to do, but he does not say how each one or all together could have been a crime meriting a magisterial inquiry."
Government officials did not shy away from highlighting this court decision as an event that cleared the name of all persons involved, with Justice Minister Owen Bonnici saying on Twitter that he finds Busuttil's "stubborn refusal to accept the final verdict of the Criminal Court" unbelievable. "This is what, after all, the rule of law is all about," he said.