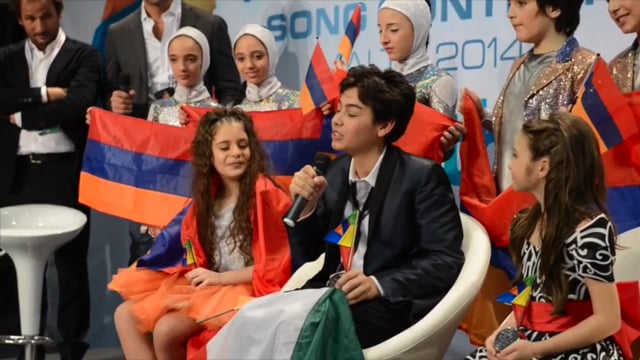 Vincenzo Cantiello wins Junior Eurovision contest 2014 • Video Ray Attard
14-year-old Vincenzo Cantiello takes home the Junior Eurovision award after scoring the highest combined points of the night.
Vincenzo's power ballad has won the 12th Junior Eurovision Song Contest last night with the song "Tu primo grande amore". Vincenzo won with an overall majority of votes, scoring a total of 159 points from the combined jury/televoting scheme. This was Italy's first time entering the Junior Eurovision Song Contest.
Local opera sensation, Federica Falzon placed 4th for her rendition of "Diamonds" with 116 points.
*
20:30
That's it! The contestants have done all they can to win the support of the public and it's now in the hands of the televoters to chose the winner!
Blame it on bias, or the sound of the building nearly collapsing with the roaring applause, but the Federica Falzon's performance was easily the best of the round.
To all those nay-saying the idea of opera in this show, I dare you to deny that Sweden's 2009 entry "La Voix" is one of Eurovision's most iconic moments. And don't even get me started on the peak of any form of popera: Julie and Ludwig's "On Again Off Again" #AbsoluteClassic
20:10
This round started well as I was already intrigued by the first of its group. Slovenia's song had a certain charm to it, with an interesting tune complimented by singer Ula Lozar's unique tone.
Following this, the hipster in me wept as I was forced to agree with the entire audience that the standout performer for this round was Italy's Vincenzo Cantiello. I'm already texting my assistants to buy him the biggest chocolate bar for when I meet him. No child should have had to endure the heartbreak required to sing a song about love with such passion.
19:50
Four new performances in and my job of choosing a favourite got even harder as a surprise contender rushes forward. I can now proudly announce that I am backing "Moira pronouncing the song names in different languages" to win.
In all seriousness my favourite from this group is easily Cyprus' Sophia Patsalides. She had amazing stage presence and with a voice like that it's no wonder she's so confident on stage. A word to the wise though, when you can sing like that hand flailing should be reserved for vocal control and not "dancing" (See: Mariah Carey).
We're now halfway through with 8 acts left to perform, including our very own Federica Falzon
19:30
Hello Europe Chucky calling!
Is that even a thing in the junior version of this contest? 4 acts have now performed, and thankfully as of yet there are no power outages to speak of. The opening ceremony was everything it was hyped up to be and the stage is even better.
Of the first 4 songs I was most enthused by Bulgaria's trio who were just the right level of sickly sweet for the whole thing to work. This combined with a sense of "national guilt" for the power outage which cut through their performance yesterday has me backing them as my favourites of the first quarter. If I'm being completely honest though, two kids behind pianos not breaking out into "Chopsticks" is enough to impress me.
*
The Marsa shipbuilding is all dolled up and ready to go with less than one hour till the curtain rises on tonight's Junior Eurovision Song Contest final. 16 countries will be participating in the hopes of taking home the transcontinental title.
Malta's Federica Falzon and her poperatic entry will mark our 10th foray into the competition, while countries like Italy, Montenegro and Slovenia will be making their Junior Eurovision debut tonight.
The rules of the contest are for the most part similar to those of its adult counterpart, with the exception of an age limit (15 years old) and all songs being sung in their country's official language.
This is the first time Malta is hosting the Junior Eurovision following Gaia Cauchi's win in Kiev last year. Presented by Moira Delia, tonight's show starts at 19:00 with the contestants performing in the following order:
Belarus
Bulgaria
San Marino
Croatia
Cyprus
Georgia
Sweden
Ukraine
Slovenia
Montenegro
Italy
Armenia
Russia
Serbia
Malta
The Netherlands
Stay tuned as our resident Eurovision-vulture Chucky Bartolo takes you through the evening.
The concept and designs of the richly-choreographed Junior Eurovision was captained by executive producer Anton Attard. Attard, who also serves as the chief executive of PBS, has a long history in productions including the heading up of radios, TV stations, as well as international concerts.
The medley of unique clips of Maltese sites and amazing colourful stage was to the credit of Attard's creativity and his team.