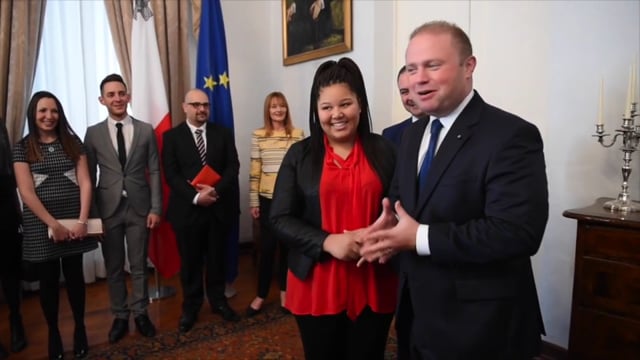 Destiny hopes to take on Eurovision Song Contest • Video by Ray Attard
Junior Eurovision song contest winner Destiny Chukunyere said that participating in the Eurovision song contest was amongst her aspirations for the future.
"I will focus on pursuing my studies for the time being, but in a few years' time I'd like to participate in the Eurovision Song contest," Destiny told MaltaToday following a meeting with prime minister Joseph Muscat and culture minister Owen Bonnici at Castille earlier today.
Speaking about her experience at the song contest, Destiny said that she was glad she had the chance to make Malta proud.
"I was very happy to meet the prime minister today," she said, adding that he had given her a gift she had been very happy to receive.
Destiny said she had always been inspired by soul and gospel singers such as Beyonce, Aretha Franklin and Jennifer Hudson among others.
Destiny was crowned the winner of the 2015 edition of the junior Eurovision song contest for her performance of 'Not my Soul', which garnered 186 points, at the show held on the Saturday 21st November at Bulgarian capital, Sofia.
Destiny was accompanied by members of her family and her team during the meeting which continued behind closed doors.
Malta's win marks the second time the country won the competition in two years, after Gaia Cauchi's performance of 'The Start' in the 2013 edition.
The winning song wass composed by Chukunyere, daughter of football player Ndubisi Chukunyere and Matt 'Muxu' Mercieca, and composed by Elton Zarb. The two composers were also behind Malta's 2013 winning entry 'The Start'.
"We are still incredulous about the result we achieved," they both said.
Mercieca and Zarb said that Destiny had been the inspiration behind the song.
"We met her and we made sure that the song was as tailor made to her style and personality as possible," Zarb said, adding that she had been part of the whole process from day one.
Mercieca added that there were many plans for her future including a show.
"We have various plans for her, but we'll take things step by step," he added.