[WATCH] Opening autumn trapping season will harm Malta's EU court case - Busuttil
Simon Busuttil dismisses Joseph Muscat's renewed challenge to resign if inquiry finds no connection between Prime Minister and Egrant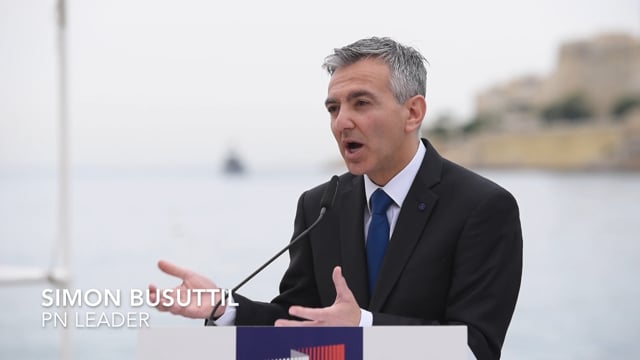 'Joseph Muscat is trying to buy trappers' votes' - Simon Busuttil
PN leader Simon Busuttil has criticised the Ornis Committee's decision to recommend a finch trapping season in autumn this year, warning that this will weaken Malta's position as it attempts to convince the EU Courts that it should be allowed to retain the practice.
"This decision is a clear example of Joseph Muscat once again trying to buy votes," Busuttil said in response to journalists' questions at a press conference. "Once the Courts realize that Muscat has opened a finch trapping season before it has reached a decision, it will take it as a slight," he said. "Muscat's decision is harming Malta's court case, because how can one defend himself at court if he is challenging the law?
"Muscat doesn't care about hunters and trappers, but he is merely trying to save his own skin."
Busuttil added that a future PN government will respect the ECJ's decision on finch trapping.
The Ornis Committee – the government's consultative body on hunting – last weekend recommended the opening of a finch-trapping season between October and December this year.
The recommendation, in the middle of an election campaign, comes as Malta awaits a decision by the European Courts of Justice on whether the country should retain the practice.
Trapping of all birds is prohibited by EU law and was phased out and eventually banned in Malta in 2009, in line with its EU accession treaty. However, the Labour government in 2014 reintroduced the trapping of seven species of wild finches – on the assumption that it can justly derogate from EU law in a similar fashion to spring hunting.
However, the European's Environment Commission – spearheaded by former Labour minister Karmenu Vella – has argued that the traditional Maltese use of clap nets is a non-selective trapping style, and that trapping birds for leisure does not constitute a "judicious" reason to derogate.
Busuttil dismisses Muscat's 'Egrant challenge'
During the press conference, Busuttil once again played down repeated calls by Muscat to resign if an ongoing magisterial inquiry finds no connection between the Prime Minister's family and the offshore Panama company Egrant.
Addressing a mass meeting on Sunday, Muscat said that Busuttil is shying away from the challenge because he knows that the report – that Michelle Muscat is the ultimate beneficiary owner of Egrant – is false.
"I never lied. And I will resign if the inquiry links any member of my family to the company, even if the inquiry is published just a day before the general election, or a day after. I know that I am telling the truth," Muscat said. "But others won't accept the same challenge, knowing that they've based their claims on a lie and fabricated documents. They took people to the streets based on this fabricated lie. Simon Busuttil is scared because he knows he sullied my name on a lie."
Questioned by MaltaToday on Muscat's challenge, Busuttil accused the Prime Minister of shirking from his responsibility.
"It is not I who has been accused, and I can confirm that neither I nor any PN candidates own a secret Panama company," he said. "When a serious allegation is made against a Prime Minister, then it is the Prime Minister who should shoulder responsibility and not the Opposition leader. Besides, it's not just myself who is making the allegations but a whistleblower."
He said that Muscat lost all credibility on the Panama Papers case the moment he decided to retain minister Konrad Mizzi and his chief of staff Keith Schembri last year.
"Egrant had been mentioned in the Panama Papers and its UBO was someone so important that their personal details had to be passed on [to Mossack Fonseca] via Skype. Muscat has been lying throughout and I don't believe him on Egrant."
Busuttil also took Muscat to task for what he described as an increasingly negative PL election campaign – characterised by press conferences criticising the PN's proposals and billboards mocking himself and Partit Demokratiku leader Marlene Farrugia.
"Godfrey Farrugia called Muscat fake on Sunday, and he honestly couldn't have described him any better," he said. "He is fake, superficial and artificial and, after all those slogans of' 'positive energy', his mask is now slipping and the real Joseph Muscat is now coming out. Keeping up appearances has become impossible."