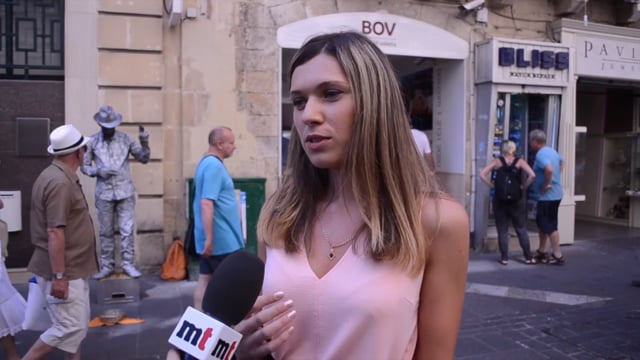 Too hot to bother? Dressing smart in the summer heat
A walk in the Maltese sun can leave the best of us panting and dripping, so the struggle of looking smart enough for the workplace is real.
How should you negotiate smart outfits and the heat being let off by every nook and cranny of the Maltese streets in summer? Most of those MaltaToday spoke to in Valletta say lighter materials and colours are essential, and that personal touches can help make work outfits more unique.
Louisana Bartolo's advice is to opt for dresses and skirts and completely avoid jeans and trousers. "Stay as light as possible, both in terms of the materials and colours you choose. The only advice I could possibly give would be not to bother too much," adding that she kept her hair and make-up natural in the summer.
Jeanine Rizzo goes for light and breathable fabrics as much as possible. "It can be hard to find something along those lines which retains that same corporate feel I look for, but I also think accessories can help you to change the same outfit over and over," Rizzo said, adding that make-up should be to a minimum as much as possible.
"The important thing was to stay as comfortable and true to oneself as possible."
Lawyers Ramona Frendo and Mariella Schembri Gonzi also pointed out the importance of always looking smart when at work. "I wear a suit regardless of the time of year, but I make sure not to wear things like blazers when outside and to stay in cool surroundings as much as possible," Frendo said, but points out that appearing as presentable as possible means choosing the right accessories, make-up and hairdo, "and above all to dress appropriately for your age and body type."
But it's not just women who have to juggle the sweltering heat and smart outfits, as Teona Mamaskhlisi pointed out, this period might be harder for men to deal with.
"The heat can present fun opportunities for women, as they have the option to wear dresses and skirts," she said, preferring t-shirts and skirts, and light make-up for the office.
Men on the other insisted on reserving suits for formal meetings and places where air-conditioning is strong enough, and unsurprisingly focusing on lightweight materials to stay cool.
Edward Engerer goes for linen for a slightly more relaxed look when he knew he would be spending the day at the office. "The important thing is to stay light as far as it is possible," he stressed.
Luke Xuereb prefers smart looking shorts. "I tend to go for light materials and also light colours for a fresher look," he added.
David Farrugia on the other hand likes to watch out for the latest trends. "I always try to check what's in fashion and adapt lighter materials to these looks, " he said.
Margaret Debono, a shop assistant who works at a beauty shop in Valletta, said that she also tended to choose light textures, and more often than not, pretty, sleeveless shirts.
"I also like to choose less tight fitting clothing, but the outfit also varies according to the place you are in and whether the air conditioning is on or not," she said. And minimal make-up: "avoid the melting effect and include sun protection as much as possible."
Essential 'cool' tips for the summer
Stick to light, breathable materials like linen or cotton to avoid unsightly sweat-patches. Silk can be a good summer choice because it's natural, breathable, and cooling (but requires frequent cleaning in case of sweating).
Right fits. Too tight could be 'too sexy', looser items will make you less smart.
Layer outfits to avoid the cold in air-conditioned offices: light blazers or cardigans are worth the effort only if you're going to spend all day going in and out of air conditioned spaces.
Choose accessories wisely (for both men and women): Wearing different clothes every day is expensive to say the least; choosing a different belt or bag can totally transform your look.