[WATCH] Man dies after falling seven storeys in Sliema
Shocking footage has emerged of a man dangling from a rope moments before he plunged to his death in Sliema • He had been working on a building's side, sitting on a wooden plank tied with two ropes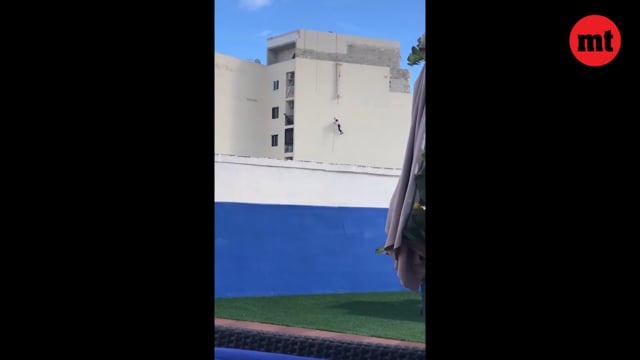 Minutes before the man plunged to his death he was dangling from a rope after the wooden plank gave way
A man died on the spot after falling from a seven-storey building in Sliema where he was working on Monday morning, the police said.
The accident happened at 10:50am in Qui-Si-Sana, Sliema.
Shocking footage has now emerged of the 26-year-old Libyan man dangling from a rope after the wooden plank he was on gave way. According to an eyewitness the man was dangling from the rope, which does not appear to be a safety harness, for almost a minute-and-a-half before he plunged to his death.
Initial police investigations showed that the man, a resident of Msida, had fallen while working on an apartment block.
An ambulance was on scene to assist the victim, but he was certified dead on the spot.
Magistrate Francesco Depasquale was informed of the case, who appointed several experts to assist in an inquiry.
An investigation is currently ongoing.
READ ALSO: Why we decided to publish footage of the construction site tragedy