[WATCH] Muscat launches Labour election campaign: 'Our country's best days'
After announcing a snap 3 June election, Prime Minister Joseph Muscat launched the Labour Party's electoral campaign at the party's headquarters in Hamrun with the slogan 'Our country's best days'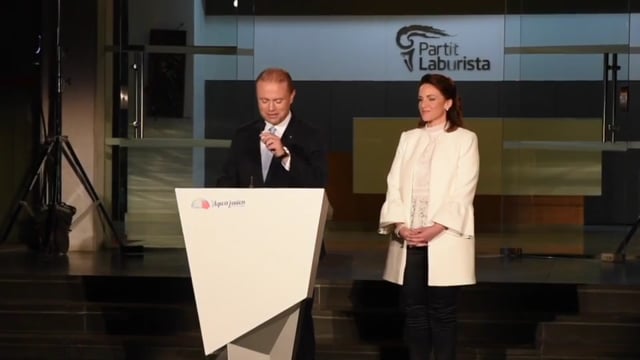 Labour launches 2017 campaign slogan
Almost five hours after announcing snap elections, Labour leader Joseph Muscat tonight launched his party's electoral campaign.
It's been a busy 1st of May for Prime Minister and Labour leader Joseph Muscat who, after announcing snap elections during a mass meeting in Valletta, called on the President of the Republic recommending the dissolution of Parliament and a 3 June election.
President Marie-Louise Coleiro Preca, in fact, accepted his advice and signed an official writ dissolving parliament and calling the country to the polls.
At 10.59pm, Muscat - holding his wife Michelle by the hand - then stood outside the Labour Party's headquarters in Hamrun to launch his party's campaign and electoral slogan "Our country's best days".
"The facts are known: we have achieved record economic growth, record employment levels, a turnaround of the country's finances from deficit to surplus," he said. "We kept our word and reduced taxes, gave social benefits and fought benefits, we kept our word on childcare centres, tablets for students and an increase in stipends. We're fighting poverty and gave the elderly the dignity they serve."
Muscat noted that people realised the government had made some mistakes but he insisted the people also knew that he was a man of his word.
"They know they can't trust others, because they know it's a coalition of confusion, so it is clear that on 3 June they have to choose who they want as prime minister, Joseph Muscat or Simon Busuttil," he said.
"Our county deserves to keep on moving forward and there is so much to be done for our economy and country. This is the Maltese dream. I am once again asking you trust me as the prime minister to move forward to the best time of our country."
He described the coalition led by Simon Busuttil and Marlene Farrugia as one based on impulses.
The Labour leader's address was a brief speech, which he delivered with his wife, Michelle, by his side.
Michelle Muscat is at the heart of allegations that she's the ultimate beneficial owner of Egrant Inc - allegations which Muscat has vehemently denied. A magisterial inquiry is underway and the Prime Minister has decided to call early elections. Muscat has argued that the elections are a sign that he "won't allow anyone to distabilise the country" as he faced calls by the opposition to step down.
Party workers, aides and cabinet members gathered outside the party's headquarters for the official launch of Labour's electoral campaign.
Campaign volunteers had - in the meantime - already set up a number of billboards across the island.