[WATCH] Locals greet Labour leader at Birgu market
Day two on Labour's campaign trail: Joseph Muscat accepts flowers, kisses and selfies with adoring supporters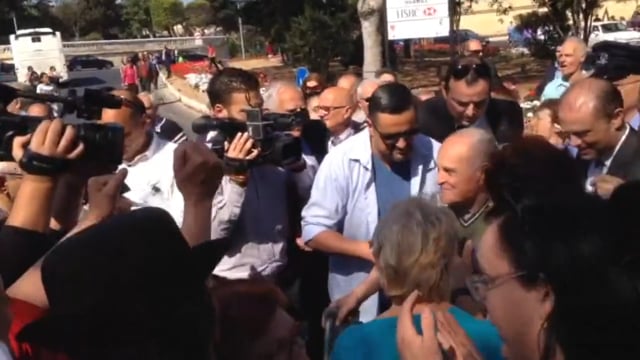 Locals greet Labour leader at Birgu market
Kisses, flowers, and requests for photos greeted Labour Party leader Joseph Muscat on his first stop at Birgu's local market on day two of his electoral campaign.
The Prime Minister arrived in Birgu shortly after addressing a press conference where he laid out a number of measures in five "priority areas" that he has promised will be enacted by the government if elected for a second term.
Upon his arrival at the Labour stronghold, Muscat was greeted by scores of ecstatic supporters who rushed to his car to meet their leader.
Muscat walked through the market together with home affairs minister Carmelo Abela, civil liberties minister Helena Dalli, parliamentary secretary for sport and innovation Chris Aguis and parliamentary secretary for local government Stefan Buontempo. The Prime Minister was also accompanied by aide and election candidate Glenn Bedingfield.
Muscat exchanged hugs and took photos with eager supporters to chants of 'Joseph Joseph', with many expressing their support for a Prime Minister they perceive to be on the end of an unjust smear campaign.
The Labour Party will continue its campaign trail with a rally in Zurrieq this evening.