[WATCH] Busuttil: Muscat will have to go if Keith Schembri allegations prove true
The Nationalist Party leader stressed that while both parties will be making their proposals, the election will boil down to issues of integrity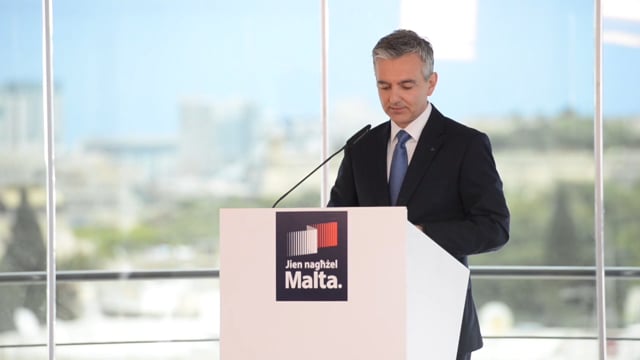 Busuttil: Muscat will have to go if Keith Schembri allegations prove true
Simon Busuttil.mp4 from mediatoday on Vimeo.
PN leader Simon Busuttil has insisted that if the Egrant magisterial inquiry finds wrongdoing by Prime Minister Joseph Muscat or Keith Schembri, his chief of staff, Muscat will have no choice but to resign.
"What will happen if Muscat wins the election and the inquiry then finds proof of wrongdoing by Joseph Muscat or Keith Schembri, in which case Joseph Muscat would have to resign," he asked, stressing that the Prime Minister and his chief of staff were close enough to be considered one.
Busuttil said that while it is uncertain what the inquiry will find regarding allegations that Michelle Muscat, the Prime Minister's wife, owns a share in the Panamanian company Egrant Inc, it will definitely find wrongdoing on the part of Schembri since he himself had passed on tangible evidence to the inquiring magistrate.
The PN leader was addressing a press conference at the party headquarters where he said that people had woken up this morning asking why an election was going to be held so soon.
"Why didn't Joseph Muscat at least wait for the end of the criminal inquiry on him and Keith Schembri. Why didn't he at least wait till October for him to be able to put forward another budget," he said. "Why has Muscat abruptly ended his term after just four years."
Asked about whether he feels the election would place undue pressure on the inquiring magistrate Busuttil stressed that he believes in the independence of the judiciary.
"I have already said I believe in the competence of the magistrate Aaron Bugeja. I added however that he will have a difficult task when it comes the Egrant case because we all know what happened the night news about Egrant broke, when the banks' chairman could be seen escaping the bank with two suitcases in his hand," said Busuttil.
He questioned how the magistrate was expected to know what was in the bags, and whether he would have to believe the bank's chairman, "a person from Iran, with a colourful past".
Moreover, he said that despite the various allegations surrounding the bank and its chairman, he would "like to believe that the magistrate will remember these circumstances" and won't allow Muscat, himself or anyone else to influence him.
The PN leader insisted that Malta was currently living through a state of uncertainty and instability because of the crisis created by the fact that Schembri had been retained despite being under criminal investigation.
"This crisis was created because what we have seen in the past days wasn't an isolated incident. It is the style of a corrupt government," he said. "We are in today's situation because of three people who thought of their own personal gain instead of the country's"
Busuttil also noted the way in which news of the snap election was covered by the international press.
"Nobody said that an election was called because the Nationalist Party or the leader of the Opposition had created instability," said Busuttil. "They said that a snap election was announced because Joseph Muscat and his chief of staff are faced with criminal accusations of corruption."
He stressed that foreign media was looking at the country not through a partisan lens, insisting they were reporting the facts as they were.
Moreover, he accused Muscat of breaking several electoral promises and in some cases doing the exact opposite of what was promised, especially when it came to the promised zero-tolerance to corruption, accountability, transparency and meritocracy.
"Muscat let us all down, big time. My promise is to not be like Joseph Muscat," said Busuttil.
The PN leader acknowledged that many people had lost faith in politics and this, he said, was the reason for the PN opening its doors to others to form a national coalition to clean up politics.
Asked about his decision to frame the forthcoming election as a choice between Joseph Muscat and Malta, rather than himself, Busuttil said that corruption is bad for the whole country, and Muscat had become synonymous with corruption.
"It is a question of Joseph Muscat on the one hand, and Simon Busuttil, and many other who are saying the same thing, on the other," he said.
Electoral Programme
Busuttil said that despite the PN publishing seven policy documents, and putting forward a number of proposals, in the coming days it would be officially putting forward its electoral programme.
"The PN has already said that in addition the electoral programme, it will be publishing a second programme focusing on Gozo," he said, adding that work on the programme was nearing completion and would be announced in the coming days.
In addition to this, he said the PN would also be publishing a programme focusing on youths.
"We believe that while this is an election for the whole country, the future of youths is what is most at stake," he said. "We want to send a clear message that we are there for them and what we will be doing we will be doing for them."