[WATCH] 'PL victory will give death knell to financial and construction sectors' - Busuttil
PD deputy leader given platform at PN political activity, says the two parties can together 'knock the Panama Gang out of government'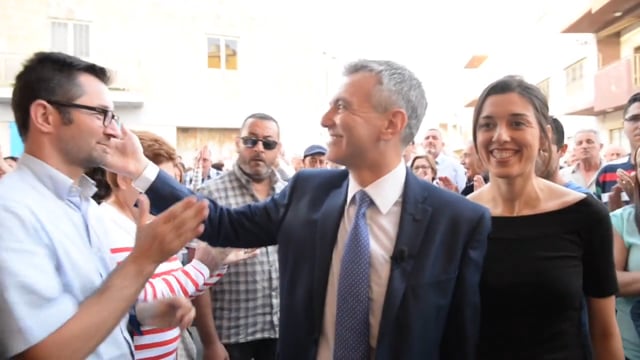 'PL victory will give death knell to financial and construction sectors' - Busuttil
PN leader Simon Busuttil sounded a strong warning that the Maltese economy will be dealt a death knell if the Labour Party wins the upcoming election.
Interviewed by MediaLink's head of news Fabian Demicoli at a political activity in Naxxar, Busuttil said that a Labour victory will send the world a message that the people have green-lighted government corruption.
"If Joseph Muscat wins the election, we'll give a message to the world that the financial services sector should be left in the hands of a person under criminal investigation. The financial services sector will go down the drain."
He warned that the financial services industry will also have a negative ripple-effect on the real estate and construction sectors, which have boomed in recent years due to a property demand fueled by foreign workers in financial services companies.
"To those who say that elections aren't won and lost on corruption, I respond that corruption is pervasive and that it impacts every aspect of our lives."
Busuttil urged the public to stop believing Muscat, arguing that the Prime Minister is in denial over his chief of staff Keith Schembri, who has been accused of taking kickbacks off the sale-of-citizenship scheme.
"Muscat had the cheek to say that Schembri can stay on as chief of staff until a decision is taken on whether criminal steps should take against him. However, he is already under criminal investigation - what more proof do you need than that?
"Muscat has a silver tongue and his arguments sound convincing, but he is a liar and we must stop taking his word as gospel," he said to cheers.
PD deputy leader given a platform
The political activity was also addressed by Partit Demokratiku deputy leader Anthony Buttigieg, marking the first time a PD candidate addressed a PN activity since the two parties formed a coalition.
Buttigieg urged people who are disillusioned with the PN to vote for his fledgling party, arguing that a combined force of the PN and the PD can "knock the Panama Gang out of government".
"This is not a coalition in which the small party has been swallowed up by the large one, but rather is a partnership of two parties," he said.
Afterwards, Busuttil urged traditional Labour supporters who want a change in government but who feel uncomfortable voting PN to vote for the PD.
"The PD is led by Marlene Farrugia, an ex Labour MP who quit the party for the same reasons why many Labourites are hurt by their party."
The PN leader reiterated that he advocates the politics of consensus, which is the norm at teh European Parliament, where he worked for nine years as a MEP.