WATCH: 'My social conscience is greater than Muscat's' – Simon Busuttil
PN leader Simon Busuttil, whom Labour targets as a divisive figure, has said that every Labour voter should feel comfortable jumping ship to the PN under his leadership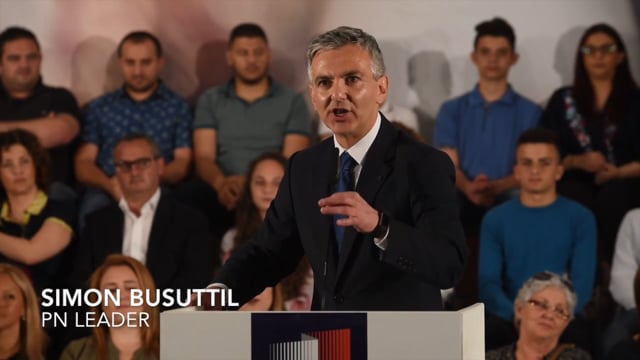 Simon Busuttil addresses supporters in Zejtun
PN leader Simon Busuttil attempted to position himself as more of a left-wing leader than Joseph Muscat, in a speech focused on the party's manifesto proposals during a political activity in Zejtun.
Busuttil reeled off a list of social proposals the PN had released in recent days and recounted how a journalist had asked him today whether he is more of a Labourite than the Prime Minister.
"I responded that every Labourite is Maltese like I am, and that every Labourite is part of the same family that I am," he said. "I am not only here for Nationalists but for every single Maltese person. Let's eliminate this division that Muscat keeps trying to sow once and for all and realize that we are all Maltese brothers."
In a similar tone to Muscat prior to the 2013 election, and trying to counter the same accusations coming to him from the Labour camp, Busuttil said that he came from a family that was half-Nationalist and half-Labourite, and said that every Labour voter should feel comfortable jumping ship to the PN under his leadership.
"My social conscience is greater than Joseph Muscat's, and I am proud of it, because my priority isn't Panama but Malta," he said referring to the Panama Papers scandal.
Busuttil reiterated that the election was about principles more than it is about proposals, and that government corruption had left the country's future is hanging in the balance.
However, he spent the large chunk of his speech detailing the PN's recent proposals – such as universal free childcare, four weeks' paternity leave, an increase in the children's' allowance, sick leave for workers whose children are sick, free school transport for all children.
Moreover, he said a PN government will ensure equal pay for equal work, stop paying the GWU for a controversial employment scheme, and set up a summer school for disabled children.
As part of a gender equality strategy, his government would also impose gender quotas on its boards to ensure that they are composed of an equal number of men and women.
'Muscat must accept PANA committee invitation'
Busuttil also urged Muscat to accept the European Parliament's Panama Papers committee formal invitation to a hearing in Brussels between 17-19 May.
Muscat has said that he will only accept the invitation after the conclusion of a magisterial inquiry into allegations that his wife is the ultimate beneficial owner of the offshore Panama company Egrant.
"Our country's name is hanging in the balance. If Muscat want to tarnish his own name then he can do so, but he mustn't tarnish our country's name along with it because Malta is taghna lkoll," he said to cheers from the crowd. "If Muscat refuses to appear before the committee, then I pledge that I will appear before it as Prime Minister to clear my country's name."
'Labour has driven Malta gas down into a wall' – PN MP
The political activity was addressed by the PN's candidates for the third district, including Catherine Farrugia – who is the representing the Partit Demokratiku.
Farrugia recounted how she had campaigned for a Labour victory in 2013, but eventually realized that the party's 'Malta Taghna Lkoll' battle-cry was a false one. "I decided to join the PD to fulfill this dream, so that Malta truly becomes a country for everyone and not for four people only," she said to cheers.
PN MP Mario Galea delivered a rousing speech, where he said that Busuttil's pre-electoral warning that a Labour government will drive the country "gas down into a wall" has come true.
"Malta has been driven gas down into a wall because of the corruption that has taken over the country. Muscat and his friends have their backs to the wall, because he had to call a snap election in the middle of the EU presidency."
Fellow MP Carm Mifsud Bonnici warned that Malta is once again fighting for democracy and stability, and said that a PN government must ensure that social justice is placed on the top of the country's agenda.
MP Stephen Spiteri warned that social housing applications have exploded, forcing people to use half their monthly salaries to rent from the private sector.