[WATCH] PD leader to contest Districts 5 and 10, negotiations with Godfrey Farrugia 'underway'
Marlene Farrugia will be contesting the general election on the fifth and tenth districts • Negotiations between Godfrey Farrugia and the Democratic Party 'ongoing'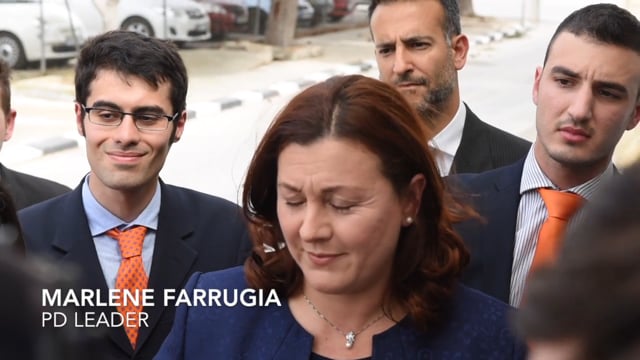 PD leader to contest Districts 5 and 10, negotiations with Godfrey Farrugia 'underway'
The leader of the Democratic Party, Marlene Farrugia, will be contesting the general election on Districts 5 and 10.
Talking to the press ahead of the presentation of the nominations by PD candidates to the Electoral Commission, Farrugia also said "negotiations" with former Labour whip Godfrey Farrugia are "ongoing".
The PD has so far fielded 10 candidates, who will be running on a PN ticket by differentiated on the ballot sheet with the 'tal-Orangjo' nickname. PD candidates can also choose the 'ta' Marlene tal-Orangjo' nickname.
Voters of the seventh district – which includes Godfrey Farrugia's hometown of Haz-Zebbug – had in the past weeks received a text from Marlene Farrugia notifying them that she would be running on their district.
"Things changed and the tenth district requires a strong candidature," Marlene Farrugia replied when asked to explain what prompted the change. "After all, for the past seven years, I have split my life between Wrendi and Sliema and I know very well that Sliema, St Julians and nearby villages - more so than others - have seen a fair share of abuse over the years."
Marlene Farrugia refused to divulge what her partner's plans were: "You will know later what he is going to do."
The submissions deadline closes tomorrow.
But she did acknowledge that it was PD that approached Godfrey Farrugia and initiated talks on him joining the party.
"Dr Farrugia is a very valid person and the country needs him a lot at this time," she said. "But at the end of the day, the decision rests with Dr Farrugia."
Marlene Farrugia also stated that both Alternattiva Demokratika and the Labour Party had approached Godfrey Farrugia. She said she didn't know whether there had been any contact between Godfrey Farrugia and the PN.
'I wish Marlene Farrugia the best of luck' – Busuttil
Questioned by MaltaToday at a press conference on Farrugia's announcement, PN leader Simon Busuttil said that the PD leader had informed him of her intentions to run on the fifth and tenth districts and that the two agreed on her plan.
He refused to weigh in on her comments that the tenth district was lacking strong candidates, simply stating that he wishes Farrugia "the best of luck".
The tenth district is a traditional Nationalist stronghold and in 2013 elected three PN MPs George Pullicino, Robert Arrigo and Francis Zammit Dimech – all of whom will be running for re-election.
The candidates also include Swieqi mayor Noel Muscat, St Julians' deputy mayor Albert Buttigieg, Siggiewi mayor Karol Aquilina, and Naxxar deputy mayor Anne Marie Muscat Fenech Adami.
When asked whether the PN has been in contact with Godfrey Farrugia over a potential candidature on the PN-PD ticket, Busuttil once again urged the former Labour Whip to do so.
"It's Godfrey's own personal decision, but I hope that he joins this national force. A person of his calibre will certainly improve it."