[WATCH] Busuttil: We have learnt from our mistakes and will not repeat them
The Nationalist Party leader appealed to those who had been hurt by the PN, insisting that the country needed them to look beyond that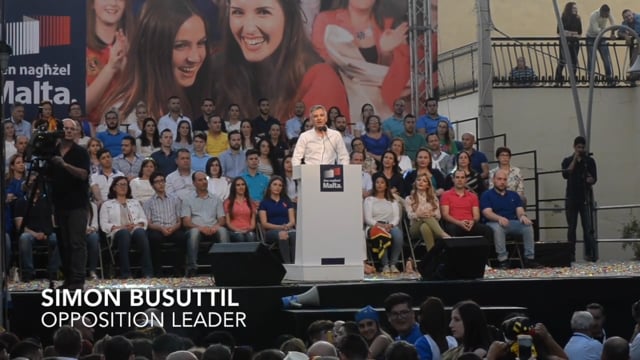 Busuttil: We have learnt from our mistakes and will not repeat them
Nationalist Party leader Simon Busuttil appealed to undecided voters, and those who had been "hurt" by the Nationalist Party in the past to look past their grievances for the good of the country.
He said the party had understood that it was not perfect and that mistakes had been made in the past.
"We have learnt from our mistakes and we will not repeat them. We will be there for you more than ever before," he added.
Busuttil was addressing a PN mass meeting in Haz-Zebbug where he said that Malta was lucky to have always been led by great leaders, leaders "who love Malta above all else".
"Leaders from different parties, like Eddie Fenech Adami, for whom our country was everything and who worked hard for democracy in our country and for Malta to be in its natural home, Europe," said Busuttil.
He said the country also leaders who the Nationalist Party had not always agreed with like Dom Mintoff
"Although we did not always agree with them, they believed Malta came first and above all else," he added.
He said that today, Malta had a Prime Minister who lacked the principle of honesty and integrity and who was putting his own interest, and that of his inner circle above that of the country.
Busuttil insisted that Prime Minister Joseph Muscat, having won the largest majority in history, had the opportunity to make the country the best in Europe and chose instead to "squander a golden opportunity".
"He betrayed us and that which he promised, instead of a Malta for everyone he gave us Malta for them only," said Busuttil.
He said that while Muscat had promised a fight against corruption and transparency, his government had been weighed down by successive scandals and had secretly sold off all of Malta's assets.
Forza Nazzjonali, he said, was bigger than the Nationalist Party and was needed to get the country back on track.
Busuttil welcomed Partit Demokratiku candidate and former Labour Whipe Godfrey Farrugia to the coalition, describing him as a person who, "showed what it means to be decent".
The PN leader acknowledged the difficulty in one leaving a party they were loyal to in order to do what is good for the country and appealed to others in the Labour Party to be loyal towards the country.
Moreover, he said he could also understand those who did not feel change was needed because they were comfortable.
"Corruption is a disease and while it may have not hit you, it is slowly taking over the country," said Busuttil.
According to Busuttil, Europe and the world would be looking to Malta to see whether it would choose a future of corruption. He once again urged those present to spread the word and convince as many people as possible and insisted that more and more people were joining each day.