[WATCH] On Egrant, Muscat vows 'to get to the bottom of this calumny' after inquiry is published
Prime Minister says Simon Busuttil 'caught up in a lie over Egrant' and deliberately holding on to information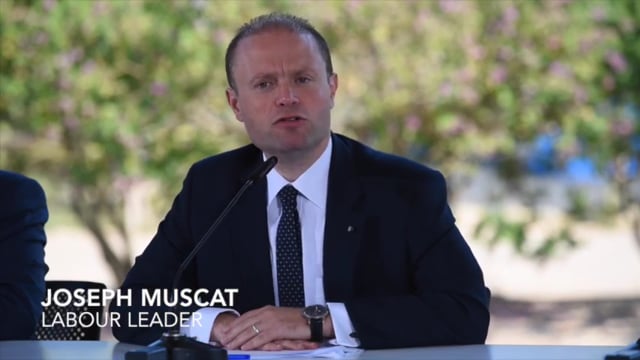 Prime Minister vows to get to the bottom of 'Egrant calumny'
Prime Minister Joseph Muscat has accused Opposition leader Simon Busuttil of deliberately holding on to information that was passed on to the Commissioner of Police over transactions made by chief of staff Keith Schembri, to purposely delay the outcome of a magisterial inquiry.
Joseph Muscat said he was confident that an inquiry into allegations that his family owned an offshore company Egrant Inc., would absolve him, saying he was ready to resign at the slightest hint of a link.
"Busuttil has not taken my challenge to do likewise if the Egrant inquiry absolves me… I have no doubt that yesterday's publication of the transactions was done because Busuttil knows he will get caught up in a lie about Egrant, and he is trying to delay the inquiries."
Muscat insisted that it was the Egrant allegation that escalated matters, when Busuttil held a press conference expressing concern on the gravity of the situation.
"I'm waiting for Busuttil to take up my challenge… After the inquiry is published, I want to get to the bottom of this matter, to know personally and for the country, to see who coordinated this lie. I will consider all steps after the magistrate's inquiry is published."
Muscat has previously called the Egrant allegation "the biggest political lie in history" and today hinted he would take legal steps for calumny.
Muscat also said that he had already forwarded a sealed information prepared by the three judges in the CapitalOne inquiry as to PN's deputy leader Beppe Fenech Adami's role as a fiduciary director of CapitalOne Investment Group. "I did what the judges told me to and forwarded the contents of this sealed information, which I read upon advice of the Attorney General, for further investigation."
The CapitalOne inquiry was concluded earlier this year, and in March the government had said that the report had been passed on for further investigation by the FIAU and the police.
Opposition leader Simon Busuttil yesterday announced he had received new information and evidence of a "new case of criminality and corruption" implicating Joseph Muscat's chief of staff Keith Schembri.
Busuttil said he has in his possession an entire cache of documents showing how Schembri paid former Allied Group managing director Adrian Hillman €650,000 in payments between 2011 and 2015 without any form of explanation. "The payments came from secret structures that indicate a textbook case of bribery and money laundering," Busuttil said.
Schembri's Kasco Group had won a competitive tender to supply Allied Group's Progress Press with its printing press in 2010. Busuttil said Schembri used a Gibraltarian company and various bank accounts in Switzerland and Gibraltar to pass on money to Hillman or Hillman's offshore company in the British Virgin Islands company, Lester Holdings.
But Muscat today said this was a rehash of information that was already available.
"It's been in Busuttil's hands for some time and instead of taking this information to the investigating magistrate, he has tried to create some act about receiving the information so that he can release it mid-campaign."
Muscat said the allegations relate to Schembri's business affairs from 2006 onwards – Schembri's Kasco Group supplied Allied's Progress Press with newsprint and later on a printing press – and had nothing to do with Schembri's political life.
"I'm also informed all transactions were declared to the Inland Revenue… tax was paid locally. I have no doubt Busuttil did what he did because he will get caught up in a lie over Egrant and he is trying to delay proceedings."
Muscat also said that Allied Newspapers, publishers of The Times, had already commissioned an internal report by Judge Giovanni Bonello into the allegations of payments from Schembri to Hillman, but instead resolved to have an amicable settlement with Hillman. "The Times should have published the outcome of this inquiry," Muscat said.