[WATCH] PN's former international secretary urges country to vote for Joseph Muscat
Lawyer John Bonello, who for years served within the Nationalist party's executive, urges electorate to vote PL: 'Busuttil's party is much worse than Gonzi's. Instead of renewing the party, Busuttil opted for a divisive mentality'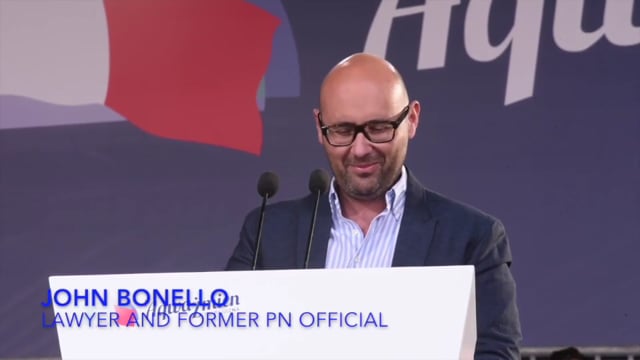 A former member of the Nationalist Party's executive turned up at the Labour mass meeting in Mqabba to urge the electorate to vote for Labour leader Joseph Muscat.
Lawyer John Bonello, the PN's former international secretary, delivered a scathing description of PN leader Simon Busuttil, whom he accused of being "a liar".
"I know Simon Busuttil, who promises one thing and does another. He lied to me. And like he lied to me, how will lie to all of us. Liar! Liar!" Bonello shouted, to chants of "Viva l-Labour!"
Addressing the undecided voters and those voted for the Labour Party for the first time in 2013, Bonello insisted that they should still for the PL.
"Let us not lose what this country has achieved. To those who wanted to renew the PN by voting for Labour in 2013, don't be fooled that this has happened. The people behind the PN billboards and Simon Busuttil are still the same people… those who enjoyed saying 'no' to everything and who are waiting breathlessly for 4 June to get back in power."
Bonello insisted that if he came to accept Muscat's invitation to address the mass meeting, all of Malta can come to accept Muscat.
Bonello was also one of the lawyers representing the PN who, after the 2013 general election, petitioned the recounts on the eighth and 13th districts. In his opening remarks, Bonello explained how he had voted for the PN in 2013, and soon after the result, he immediately started working to help transform the PN into an electable party once again.
"I disagreed with the party's position on divorce but I still continued militating within the party. I didn't believe that Joseph Muscat would truly work with people who politically disagreed with him.
"Instead, I continued believing in the PN and that we would finally eradicate the divisive mentality of 'them and us'. I thought that Simon Busuttil could truly bring change."
As the crowds booed at the mention of Busuttil's name, Bonello paused and started nodding his head.
"You are right and I was wrong because Busuttil's party is much worse than Gonzi's. Instead of renewing the party, Busuttil chose a mentality of division. They spent four years throwing mud, hurting Malta outside its shores, with no care for the consequences."
Bonello said that, at the first opportunity to show it had changed, the PN failed and abstained on civil unions legislation.
"The U-turns we are seeing today are unbelievable. A U-turn on IIP, civil unions and now U-turn on E-grant so he can flee responsibility."
Bonello also warned that they could expect "more lies" from the PN: "Trust me, I know these people and when they lie, it's a big one."