[WATCH] Busuttil accuses Muscat of threatening magistrate: 'He thought Bugeja was his puppet'
Simon Busuttil condemns Joseph Muscat's 'threats' to magistrate and accuses Prime Minister of threatening the judiciary's independence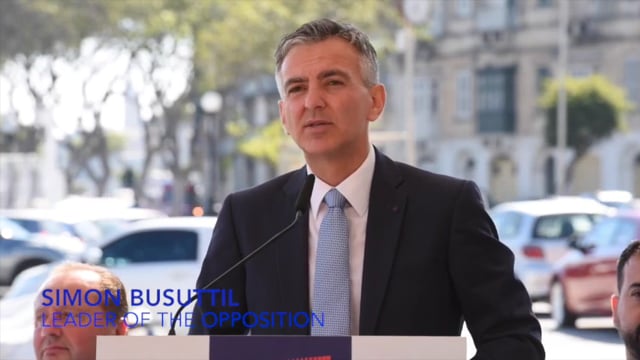 Simon Busuttil accuses Joseph Muscat of threatening magistrate
PN leader Simon Busuttil accused Joseph Muscat of threatening the judiciary's independence, after the Prime Minister said that the magistrate investigating the Egrant case would have to shoulder responsibility if his inquiry clears Muscat after Labour loses the election.
"His comment [on Xtra] was a clear threat to the judiciary, which is the last shred of hope of an independent institution we have in this country," he said. "Muscat is now trying to undermine that too, as he did when he appointed [former PL deputy leader] Toni Abela as a judge. He is attacking the serenity and autonomy of Aaron Bugeja, and I wholeheartedly condemn such pressure on the investigation."
Busuttil claimed that Muscat was under the assumption that Bugeja would bow his head and accept to be used as another of his "puppets".
"Muscat is so used to institutions doing what he wants, that he doesn't even need to give them orders anymore," he said. "Do you think he needs to call that puppet of a police commissioner to tell him what to do? No, he'll just do what Muscat wants instantly."
Moreover, the PN noted that Muscat had – as Opposition leader in 2012 – fired Anglu Farrugia as PL deputy leader after he accused magistrate Audrey Demicoli of political bias.
"If Muscat kicked out Farrugia for that comment, then let alone what he should do to himself after he insulted Bugeja's independence…"
On Xtra on Thursday, Muscat also warned that a future PN government will be faced by "Malta's biggest ever constitutional crisis" if the inquiry confirms that there are no links between him and his family and the secret Panama company Egrant.
Asked about this comment, Busuttil countered that a serious constitutional crisis would arise if Muscat wins the election, and the magisterial inquiry later links him to Egrant – a situation that would force the Prime Minister to resign.
Moreover, he claimed that there was already enough "prima facie" evidence to start a full-blown criminal investigation into the Egrant story.
"There are strong elements of credibility in the story. It has been made by a whistleblower of flesh and blood, an FIAU report has corroborated her testimony, and Muscat was caught out in five lies when the story broke out.
"I will respect the magistrate's decision and won't try to influence him, and I can promise you that a PN government will bring normality and serenity back to this country."
Busuttil also dismissed as "ridiculous" Muscat's claims on Xtra that he had "facts in hand" which show that the PN had fabricated the Egrant allegation.
"The allegation was made by a whistleblower who used to work with Pilatus Bank, who isn't a Nationalist or even Maltese," he said. "Could you imagine that I paid her to speak? Is it possible that someone believes I was behind it?
"If there wasn't an actual person behind the story, then perhaps one could suspect such things, but we're talking here about a person of flesh and blood who saw this with her own eyes so how can you can say that this was all planned by the PN?
"Indeed, it is so ridiculous that Muscat has now sunk to new levels of absurdity – he has stopped blaming me for the Egrant story and is now blaming Russia and Vladimir Putin."