[WATCH] Integrity more important than money, Busuttil tells mass meeting
Simon Busutitl: 'The values of honesty and integrity are more important than money...Joseph Muscat is mistaken if he thinks he can buy everything because we are not for sale'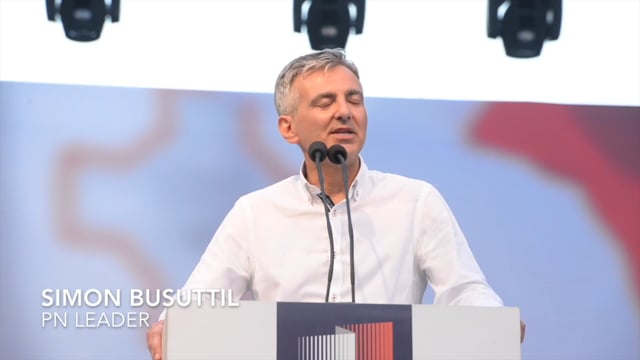 Simon Busuttil reaches out to switchers at PN mass meeting
PN leader Simon Busuttil laid into Joseph Muscat's electoral pitch of Malta's economic success, telling a mass meeting in Sliema that "the principles of integrity and honesty are more important than money".
"Muscat is telling the public that they should allow him to do whatever he pleases because they have more money in their pockets," he said. "However, I am telling you that money is not everything and that the values and principles of honesty and integrity are more important. Prime Minister, if you think that you can buy everything then you are mistaken, because we are not for sale."
He said that law-abiding taxpayers of goodwill are disgusted and angry at the Labour leadership and are questioning why they have to pay their taxes and obey the law, when minister Konrad Mizzi and the Prime Minister's chief of staff Keith Schembri are being allowed to get away with murder.
"They asking why these people have their snouts in the trough, while they can hardly get by till the end of the month. This country has lost all sense of justice."
The PN mass meeting in Dingli Street, Sliema, the PN's penultimate one before the June 3 general election was attended by several thousands of people, with crowds spilling out into the side streets as far away as the Tlett Sigriet.
In his speech, Busuttil used a metaphor to describe the current political situation.
"Imagine two thieves fleeing your house with your money and the family silver and jump into a getaway car. You follow them and see them dumping the money into a washing machine, and you file a police report but the police do nothing. "The driver of the getaway car then tells you that you are damaging the country and that you should resign yourself.
"Joseph Muscat might want to live a lie, but we don't want to live in his lies and we will prove that to you on Saturday."
He recounted how Muscat, in his debate on Xarabank on Friday, had tried to insult him by pointing out that his hands were sweaty.
"I am proud that I sweat for the Maltese people and for my country, but I will never ever drown in corruption," he said. "Hands that are smeared with corruption will remain dirty no matter how often they are washed."
Busuttil accused Muscat of pinning the blame on allegations that his wife owns the secret Panama company Egrant on the whistleblower, the Russian security services and the investigating magistrate.
"He believes that everyone is responsible and that everyone is harming the country except for himself," he said. "We are here to tell him that what is wrong can never be made right."
Busuttil reaches out to undecided voters, Labourites, switchers
The PN leader used his speech to reach out to the undecided voters, urging them to vote for the PN, warning that the fate of the country hinges on their decision.
"I urge those undecided people who are proud to be floating voters and who will never associate themselves with a political party to vote for our country's future," he said. "We don't care who you are, where you come from and whether you hold beliefs different to us. We only care that we can unite on choosing our country on 3 June. If you choose Malta, then I pledge that I will lead a government that is there for you from the very first day and not only before the election. We will not let you down."
He also reached out to Labour voters who are split between their loyalty to the party and their love for the country.
"I promise you that we will give you what you had hoped for back in 2013 – that Malta is truly taghna lkoll, that the government will work with people of all beliefs and with a zero tolerance to corurption. Muscat used you for you vote but discarded you, but we will never ever discard you because we will be there for everyone."
He recounted how PD candidate and former Labour whip Godfrey Farrugia had pledged to hold up "the torch of honesty", in reference to a traditional symbol of the Labour Party.
"The torch has been turned off and it no longer shines, and I urge you to help us turn this torch of honesty and righteousness back on so that will guide us towards the country's future."
To the traditional PN voters who switched to Labour in 2013, he said he understood their pain at how the PN government had detached itself from the public.
"We have learnt our lesson, we have matured, and will not repeat these mistakes again," he said. "As Nationalists and as Maltese people, I urge you to vote for the National Force and our country."