[WATCH] Busuttil's last-ditch appeal to undecided voters: 'Let your conscience decide for you'
Simon Busuttil uses final mass meeting at Granaries to reach out to undecided voters: 'Let your conscience decide for you...it will tell you that it is not for sale'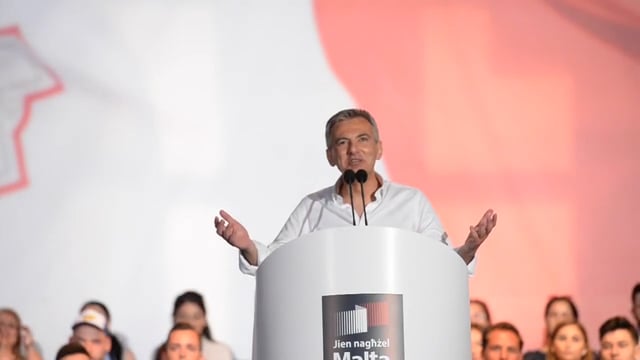 Busuttil's last-ditch appeal to undecided voters: 'Let your conscience decide for you'
PN leader Simon Busuttil issued a last-ditch rallying cry to undecided voters, urging them at his final mass meeting to vote according to their conscience.
"Some people are still undecided because the current government has given them something or other, and I urge these people to vote according to their conscience. You will be alone with your consience in the voting booth on Saturday, and I urge you to let your conscience decide for you. I have no doubt that your conscience will tell you that it is not for sale…our souls are not for sale."
Several thousands of PN supporters packed the Granaries in Floriana to listen to their leader's final speech ahead of the general election on Saturday.
In it, Busuttil said that undecided voters will sway the election either way and urged his supporters to do their utmost to convince these people to vote for the PN-PD coalition.
"I urge you to close your eyes in silence in reflection and think about an undecided voter…it could be a relative, a friend, or a neighbour," he said. "Promise me that you will continue trying to persuade them to vote for our country between now and the voting deadline on Saturday. You will be giving the best possible present to your country and you will be helping write your country's history.
"Future generations will look at us and realize that we had stood up to be counted when our country needed us most. This is our country's moment, this is our moment."
Busuttil said that the country has been gripped by corruption and that Labour has embarked on a fear-mongering campaign to convince people not to vote for the 'National Force'.
He urged people who voted for Labour four years ago to vote for the 'National Force' this time around so that Malta truly becomes taghna lkoll, a reference to the Labour Party's famous 2013 election slogan. He also quoted former Labour Prime Minister Dom Mintoff's famous slogan that he will place "Malta first and foremost".
Busuttil closed his speech by using quotes from the Maltese national anthem to urging the public to unite as one "national force" to save Malta in its moment of need.
"Let's unite against everyone who seized power for themselves, let's unite as a force of the people, a force of reason, a national force. Let's do what is right because righteousness will always triumph.
"Our choice is between the past of the Labour government and the future that is crying out for us and opening up for us, a future that we will live together when we go out to vote on Saturday and declare that we choose Malta."