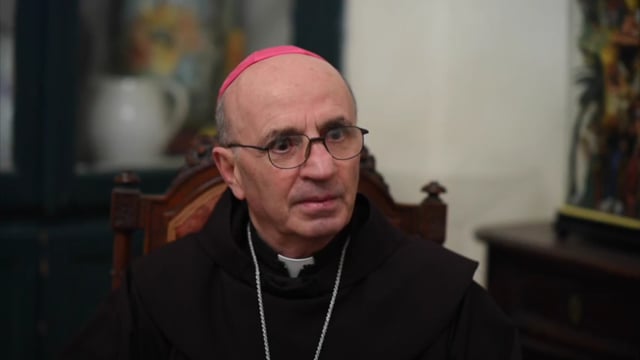 Mgr Sylvester Magro hopes to return to Libya as soon as possible
Miriam Dalli
Bishop Sylvester Magro plans to return to Benghazi shortly after meeting with the Holy Father later on this week. Having arrived in Malta just a couple of days ago after tiring journeys, Bishop Magro has no intention of staying in his home country – unless flights to Libya are halted.
"I bought a return ticket... It now depends on how many airports and flights operate. But I hope to return back to Benghazi," he says.
The 74-year-old Apostolic Vicar has been the leader of Catholics in northeast Libya for the past 17 years. His Vicariate extends from Marsa Al Burayqah on the Gulf of Sirte to Tobruk in the east close to the Egyptian border and the towns on the coast road such as Al Marj, Al Bayda and Tobruk.
Amid a rapidly deteriorating situation, for months the government has been pleading to all Maltese nationals to return to Malta. Bishop Magro has no intention of abandoning his flock of some 300 Catholics, mostly from the Philippines.
"With all humility, Jesus said that the shepherd cannot abandon his flock and it would go against our teachings if one were to abandon them to the insecurities they live in. Before I left they said 'Bishop please return. Don't leave us here. Return as soon as possible'. These are words that remain on your conscience. They are people who live far away from their families, so much in need. There is little one can do in a war zone, but at least the people know you're there."
Sitting in a quiet room at the Franciscan convent in Rabat, Bishop Magro, with his quiet voice and long stare appears to be fragile. Looks can however deceive as a change in emotions can immediately be felt when he talks about his congregation and his determination to be with them.
This is not to say that the Bishop is immune to fear of an attack: he can still remember the blasts of the bombs in the background in the attacks on the periphery of Benghazi; on Saturday, nine hours after his departure from the eastern Labraq airport, the airport was bombed in an attack claimed by IS forces.
He admits that fear is widespread in Benghazi, with citizens living under "a bronze dome of insecurity and horror".
"Life is definitely not operating in a normal manner: people are in constant fear of bombardments; there are no shops open and those who have no option but to stay only go out for the most important necessities. It is a nightmare."
Only a few weeks ago, extremist forces claimed responsibility for the beheading of 21 Egyptian Coptic Christians – a move that sparked international outcry and Egyptian military airstrikes.
"The attack on the Egyptians instilled fear and disgust… at the same time the number of Christians decreased a lot," he says.
Most of the Christians are Filipinos. Numbers dropped drastically close to the end of 2014 after the government in the Philippines ordered and paid for the evacuation of hundreds of its citizens in Libya.
According to Mgr Magro, fear is heightened because there appears to be no end in sight. He says that many are distraught at the thought of failing to find peace.
Libya, supported by Egypt, has called on the United Nations to support an international intervention in Libya to fight IS forces. The international community however responded by saying that peace talks between warring factions should be given a second chance and any international intervention should be in tandem with a Libyan national unity government.
On Monday it was announced that Libya's internationally recognized parliament withdrew from peace talks brokered by the United Nations.
"The chamber of representatives today voted in favour of suspending its participation in the dialogue," Member of Parliament (MP) Essam al-Arabi announced on Facebook.
Like Pope Francis, Mgr Magro believes that the solution for long-lasting peace lies in dialogue: "Arms only bring about more arms, hatred and vendettas. A solution must be found in dialogue among those responsible."
Contrary to the 2011 Arab Spring, when the majority of the Libyan citizens were united against their dictator, Col Muammar Gaddafi, "today there are a lot of groups and tribes and a solution must be found for them to live in peace," the Bishop says.
Although the Church he is responsible for has "never received any threats", they were forced to relocate to a safer place. The move was carried out by Red Crescent members who helped them cross over checkpoints which, many times, can be dangerous.
According to reports on Twitter, the chief of staff of the Libyan Air Force claimed that IS in Libya used Benghazi's Catholic Church and the Commonwealth War Cemetery as "arms depots".
"This is news to me too as I didn't receive such information and I cannot verify it. We didn't receive such reports before I left," the Bishop adds.
Mgr Magro is only in Malta because of a scheduled meeting with Pope Francis during which he has to present a report on the Church's working in North Africa: "I didn't want to miss it and it might be my last opportunity to meet him."
The two will meet for a one-to-one meeting lasting 10 minutes.