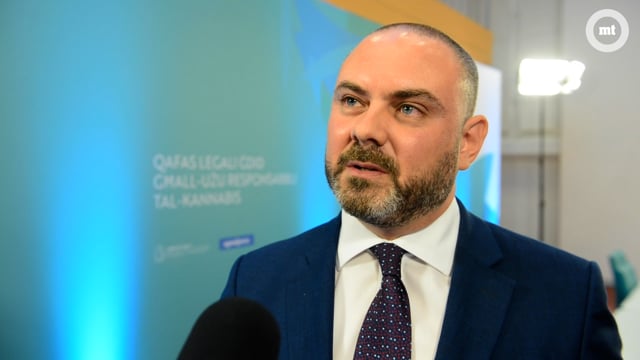 Updated at 12:10pm with Bernard Grech reaction
Under proposed cannabis legalisation, non-profit associations can grow cannabis to distribute among their members, Equality Minister Owen Bonnici said.
The minister also said that people would be allowed to grow up to four cannabis plants at one residence.
Bonnici made the announcement on Wednesday morning during a press conference. He insisted that the reforms were not to "incentivise cannabis culture or cannabis consumption" but to reduce the harm of drug rings.
"We want to reduce the suffering, humiliation and deprivation of other rights that many cannabis users have experienced when they have been subjected to arrest and judicial proceedings on possession of small amounts," Bonnici said.
The regulation of cannabis clubs plugs a gap in the original proposal floated by the government earlier this year.
A White Paper on Strengthening the Legal Framework on the Responsible Use of Cannabis was launched on 30 March 2021.
1. Possession
A person aged over 18 can have up to 7 grams in their possession. Under the new legal framework, this will not be considered an offence; additionally, a person in possession of cannabis within this limit will not be arrested or have the said cannabis confiscated unless there is reasonable suspicion of trafficking.
If a person under the age of 18 is found in possession of up to 7 grams of cannabis they will be summoned to court so that a recommended care plan can be put into place.
Under the legal framework, up to four cannabis plants are allowed per residence regardless of how many people live on the property. They must not be visible from other residences.
Consumption of cannabis in public unless authorised for medical purposes is illegal, and the person is subject to a €235 fine.
Likewise, cannabis use in front of minors unauthorised, whether in public or private, is illegal and comes with a €300-500 fine.
Fines for unauthorised use for up to 28 grams can be paid online.
2. Cultivation
When cultivating, it will be permitted to keep up to 50 grams of dried cannabis at a residence. If the dried cannabis exceeds 50 grams, the police will seize it, and the necessary legal action will be taken. Uncut cannabis will not be taken if it is within the limit of four plants.
3. Associations
Associations will be permitted to form for the purpose of cultivating cannabis to distribute amount the members. These organisations must be non-profit organisations, and no one under the age of 18 may be a member or be present. No one may be a member of more than one organisation.
No more than 7 grams per day can be distributed to each member with a maximum of 50 grams per month. The organisation will also be able to distribute up to 20 cannabis seeds to each member each month. The organisation may not at any time have more than 500 grams of dried cannabis on the premises.
The premises run by these organisations may not be within 250 meters of a school, club or youth centre and have no sign, words or drawing indicating that there are cannabis-related activities taking place.
The organisation must also ensure that the premises do not cause harm to the locality and must be registered and given permission by the Responsible Cannabis Use Authority, which is to be established under the legal framework.
They must follow the orders of the authority on how much cannabis to draw, where to dry and how to transport it. The authority will carry out checks.
Every three months organisations must report to the authority on their activities as well as on the number of members, without disclosing their names.
The organisations' owners, management, and members shall consist only of individuals that do not include legal persons or other legal entities.
The Draft proposes to set up the Responsible Cannabis Use Authority, which will regulate the sector in such a way that it also carries out educational, outreach and stakeholder measures in the sector.
Bernard Grech welcomes proposal of cannabis associations
Opposition and PN leader Bernard Grech argued that two months ago he had remarked that the law should tackle how cannabis could be purchased, as in his opinion, the relaxation of laws could strengthen the black market and organised crime.
"Today, the government amended its proposal in line with what I said, through the introduction of associations by membership. This is yet another instance of how the Opposition is making change happen."
Grech said that he is looking forward to a serious discussion in Parliament about the bill.