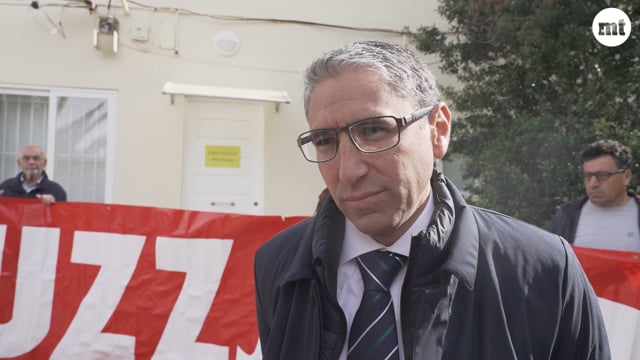 Muscat's place is in jail, Repubblika say in call for police to investigate former PM
Anti-corruption Repubblika unfurled a large banner that reads 'corruption', outside a government office used by former prime minister Joseph Muscat at Sa Maison.
Repubblika president Robert Aquilina was categorical in dubbing Muscat the instigator of a corrupt hospitals privatisation deal that was last week declared null by a court.
"Muscat and his accomplices' place is in jail," Aquilina said. "It is crucial that those tainted by corruption, abuse and fraud, are prosecuted in court to be served justice."
Aquilina accused Commissioner of Police Angelo Gafà and Attorney General Victoria Buttigieg of refusing to carry out their duties for an investigation of Muscat and former Labour minister Konrad Mizzi.
"Despite the ongoing magisterial inquiry started on Repubblika's initiative, the Commissioner of Police is still obliged to investigated separately and carry out criminal investigations, which I am informed are not taking place. Gafà is following the line set by predecessor Lawrence Cutajar."
Aquilina said Repubblika would hold Gafà liable should any of the possible indicted people in a completed magisterial inquiry, have absconded from the country. "Don't come, days from now when the inquiry is concluded, saying they cannot be arrested because they have left the country."