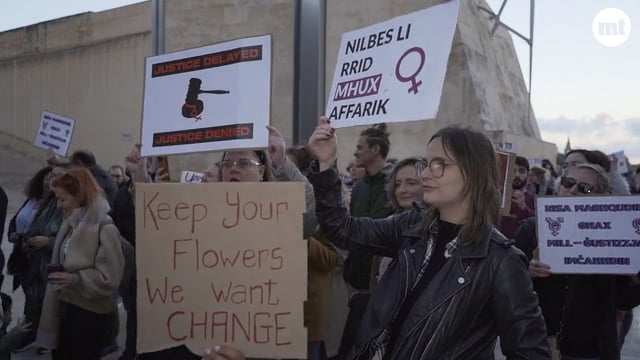 Activists have slammed the Maltese judicial system, saying women feel they are not protected by a system which should be defending them.
"We no longer want to attend vigils for women murdered by their partners, we don't want to beg for the rights to take personal decisions on our bodies, we don't want to see women become victims of an inefficient system," Dr Angele Deguara said.
The march, 'Women united against injustice', was organised by a group of NGOs on international Women's Day.
Protestors criticised the Maltese judicial system for its "never ending problems". "Never ending cases, mistakes, deferred cases, lawyer fees, prejudices, lost evidence, lack of coordination between departments, lack of resources, and above all else a lack of justice."
They said the majority of women do not feel protected by the police, laws and the courts. "We want institutions which work towards having a more just and equal society."
"Our society is not built on social justice, it a patriarchal system society dominated by men in every aspect, while women remain disadvantaged, humiliated, raped, abused, exploited and assassinated," she said.
While the march did not focus on a single individual, many who attended named Bernice Cassar, Pelin Kaya and Paulina Dembska as key women who paid the ultimate price at the hands of institutional injustice.
Activists held placards as they marched through Valletta, with signs reading, "The state failed us," "Nagħmlu ħoss kontra sessiżmu jboss," "Bernice will not be forgotten."
Protestors were also heard chanting "My body, my choice" and "tal-biza, tal-biza, vjolenza fuq in nisa" (it's frightening, it's frightening, violence against women).
The following NGOs supported the protest: Aditus, Malta Women's Lobby, Dar Merħba Bik, Women for Women, YMCA, Migrant Women Association Malta, Integra, ARC, IVY, Dance Beyond Borders, Allejanza Kontra l-Faqar, MAWB, Men Against Violence and Għajjejt u Xbajt.