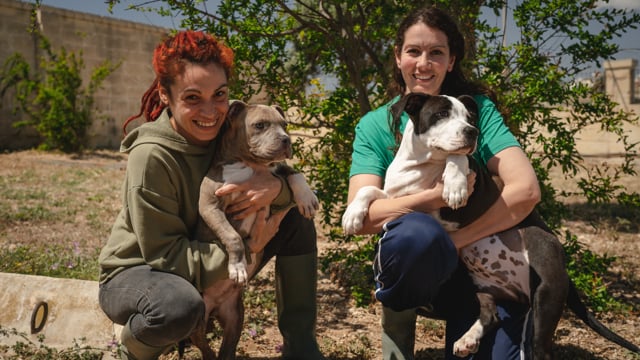 The latest incident that saw pit bull owner Andre Galea attacked by his dogs has sent the longstanding debate on bully breeds into overdrive.
Galea, whose grandmother was killed by his dogs in September 2020, was attacked by his bully-breed canines while walking them in the early hours of Monday. Other dogs under his ownership have since been confiscated by the animal welfare authorities.
The incident has divided dog-lovers. Activists and sanctuary volunteers argue the breed should be banned, while breeders insist it all depends on who owns the dogs.
In her 2021 end of year report, Animal Welfare Commissioner Alison Bezzina had called for a nation-wide ban on the importation and breeding of bully breeds. She argued that bull breeds account for many dogs which are abandoned by their owners and thrown out into the streets.
Trying to unravel this debate is not easy because it is laden with mixed emotions as MaltaToday found out when it spoke to Rosalind Agius from the Association of Abandoned Animals (AAA) and European Bully Kennel Club President (EBKC) Andrea Selvaggi.
But despite coming from opposing poles both agreed the dogs involved in the Galea incident were not exhibiting normal behaviour.
"Those dogs were clearly not trained, are cross-bred and were not being homed in the right conditions," Andrea Selvaggi said. "Dogs which are traumatised and abused, will obviously lash out in the right circumstances."
Rosalind Agius said the case is shocking, but not surprising. "This is an individual whose dogs have already killed a person inside his home. The dogs turned against him, because who knows how he treated them. We were expecting it."
But that is as far as Agius and Selvaggi agreed.
Banning the breeds
Rosalind Agius insisted Monday's incident highlights the need for a ban on bully breeds.
"Bully breeds are falling in the wrong hands. A lot of people are impressed by their strength and energy. They have a brilliant character and are very friendly when trained properly, but unfortunately a lot of bully breed dogs are the victims of bad breeding and bad training," Agius said. "Other countries have banned the breeds, and we have to follow in their footsteps, at least we should ban their breeding."
She said bully breeds are among the breeds most abandoned by people, insisting people do not realise what they are getting into when they acquire these kinds of dogs.
"To make matters worse, given their reputation, only a few individuals are then willing to adopt a one- to two-year-old bully breed which has been through some kind of trauma," she said.
The sentiment was not shared by Selvaggi, who said the breed has nothing to do with it.
"I disagree completely with banning the breed," he said. "Strength does not equal aggression, and there are a number of factors which contribute to incidents."
He argued that aggression in dogs can be exhibited in several breeds.
"Look at the Belgian Shepherd (also known as Belgian Malinois) for example. It is one of, if not the best working dogs there is. It needs proper training, and ways of venting its built-up energy. That dog is not right for a family which does not cater for its needs," he said.
Selvaggi argued that aggression is a normal trait among dogs, and it depends on how owners tackle it.
"The issue lies in controlled aggression. It is normal for dogs to be the alpha male or female, and for them to express aggression - the issue lies in having owners who are financially, psychologically and physically able to care for and handle the dog," he said. "That is the importance of having pedigree dogs, because you can understand who their parents were and their traits. If you can only buy from breeders, that will be overcome."
Curbing breeding of bully breeds
Among the suggestions being put forward by activists is the outright ban on the breeding of bully dogs. They argue the situation has gotten out of hand, and this is resulting in bad breeding and in-breeding.
"We have no legislation on breeding. If you have a sick dog, or a dog with bad traits, you can still breed it. Everyone can do as they please, and so people like Andre Galea can keep on doing what they want," Rosalind Agius said.
"I have a pregnant bitch [at the sanctuary] which is infected with a sandfly bite, and her owner knew she was, but still insisted on breeding it. This means her litter of puppies will all be infected, and that to me is plain cruel and irresponsible."
She insisted legislation must be partnered up with proper enforcement.
Selvaggi on the other hand said the road towards ensuring the elimination of bad breeding lies in ensuring breeders are registered with a kennel club.
"There is no market for professional breeders in Malta. People who breed dogs are mostly hobbyists and can barely cover the costs that come with the process. Breeders should be registered with a kennel club and abide by ethical guidelines as we do," he said.
These ethical guidelines include a ban on breeders who impregnate bitches which are younger than one and a half years, as well as a limit on the number of litters the dogs produce.
"If we are informed that breeders within the club are not abiding by these rules, they are immediately removed, and will not be allowed to breed pedigree-grade puppies ever again," he said. "We had someone who was faking pedigrees with cross-bred dogs because he had a drug problem. Once we were informed, the dogs sold were DNA tested and their pedigree removed."
Selvaggi said kennel clubs also have the right expertise in approaching different breeds.
"I could line up five different bully breeds which to someone without a trained eye could all be the same, but to an expert like me can be distinguished immediately," he said. "This expertise is also used in guiding owners on the appropriate training, diet and environment which the breed needs."
He also said club members are encouraged to abide by the Canine Good Citizen programme, which aims to set a standard of behaviour for dogs in the community. At the heart of the EBKC CGC program is the 10-step Canine Good Citizen test.
The 10 steps include training dogs to be friendly towards strangers, sitting politely for strangers, grooming, leash training, dog behaviour in crowds, basic command training, reactions to other dogs, reaction to distractions, and supervised separation.
"This is very important, as it produces trained and obedient dogs which can be taken around in public without any issues," he said, stating it should be a national standard all dog owners must abide by.
Such a training programme for dogs could help resolve the complicated relationship between bully breeds and humans but the question will linger: Is it only the dogs that require training, or do their human owners also need instruction?