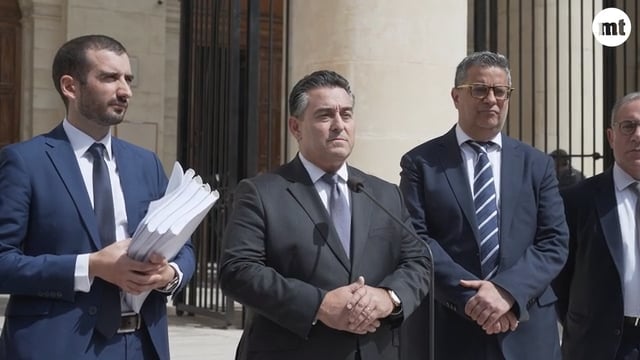 An individual claiming to be privy to the obscure dealings in the Steward hospitals deal has approached Nationalist MP Mark Anthony Sammut with evidence that suggests fraud.
On Thursday morning, the MP submitted four volumes of documentation to Magistrate Gabriella Vella, who is leading the inquiry into the hospitals deal.
This is the first time a witness has stepped forward to share information about the hospitals' concession.
Standing outside the courthouse in Valletta, Sammut said the documents include agreements between the involved parties, emails, chats and messages exchanged between representatives of Steward Health Care, Vitals Global Healthcare, Labour politicians, people in high office, legal consultants of the Labour government and high officials from the public service.
"The documents indicate fraud, collusion between public officials and businesspeople, threats and false declarations," Sammut said.
He was flanked by Nationalist Party leader Bernard Grech and MPs Karol Aquilina, Adrian Delia and Joe Giglio.
Sammut said the person was willing to testify in front of the magistrate.
"It is my duty to hand over this documentation to the inquiring magistrate," Sammut said.
Courts are country's 'last hope' for justice
Opposition leader, Bernard Grech said the magisterial inquiry regarding the hospitals concession is the country's "last hope" for justice to be served in this case, as he lambasted Police Commissioner Angelo Gafá for inaction and lack of arrests. "The courts are the last hope for Malta's democracy and justice."
When asked if the witness in question is or was a Maltese public official, Grech declined to answer due to a request by the witness, and stated that he is not aware if the person has requested whistleblower status.