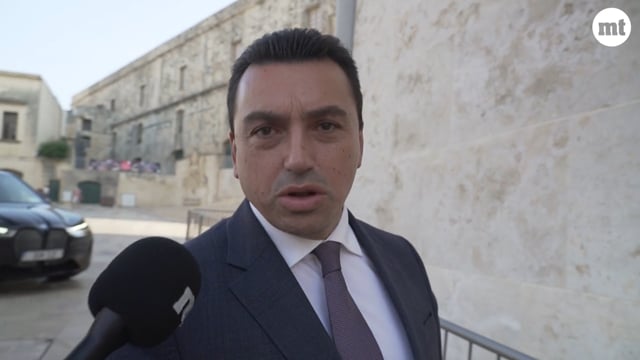 Labour ministers and MPs have closed ranks, insisting they saw nothing wrong in Minister Ian Borg and his aides speaking to a Transport Malta official over driving test.
Transport Minister Aaron Farrugia completely shunned questions on concerns that certain drivers who were unfairly awarded a driving licence, would be a hazard on the roads.
"I think the statements made by the Prime Minister on Sunday were enough, and I now look to the future," Farrugia said, completely ignoring questions over whether he condemns Borg's actions.
WhatsApp chats to a Transport Malta officer in charge of driving examinations have revealed that former transport minister Ian Borg forwarded names of test candidates that had to be "taken care of" to ensure they passed their exam.
The WhatsApp chats obtained show Borg, his canvasser Jesmond Zammit, and his ministry personnel would pile pressure on Transport Malta's director of licensing Clint Mansueto to "help" candidates at different stages of the licensing process.
Mansueto and two low-level Transport Malta clerks, Philip Edrick Zammit and Raul Antonio Pace, now face corruption and trading in influence in connection with the racket. They deny the charges.
A number of ministers and MPs, including Jonthan Attard, Chris Fearne, Glenn Beddingfield and Andy Ellul completely ignored questions.
Independent MP Rosianne Cutajar said Ian Borg did nothing wrong, and in a subtle jibe towards the Prime Minister, insisted that neither did she "do anything wrong". Cutajar was forced to resign from the PL parliamentary group after Whatsapp chats between her and Yorgen Fenech were leaked to the press.
Other MPs insisted they have always helped out their constituents "within the parameters of the law".
"We are here to help people," Parliamentary Secretary Chris Bonnet said.
Earlier on Monday, Prime Minister Robert Abela continued to defend Ian Borg, saying he was doing what was expected of him as a minister, which is to help people with "legitimate requests".
"Every ministry has a number of officials, from the Office of the Prime Minister down to ministry secretariats, that are employed to assist the public, irrespective of their political beliefs, in their daily needs," he said.