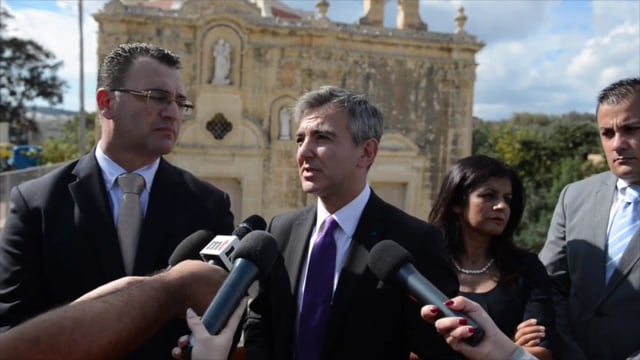 Simon Busuttil on solar power contract investigations • Video by Ray Attard
PN leader Simon Busuttil today said that he hopes acting Police Commissioner Ray Zammit would carry out investigations on a €35 million feed-in tariff contract in a correct manner.
On Sunday, Busuttil said that if police investigations established that Nationalist MP George Pullicino was guilty of curruption, he would take immediate action against his MP.
Otherwise, the PN leader said that if the police do not find any evidence energy minister Konrad Mizzi, who leveled the allegations of corruption against Pullicino, should resign or be removed by the Prime Minister.
Asked whether it was wise to rely on police investigations as the measure of honesty, Busuttil said "I will decide what the measure of honesty is. I want to do politics differently from Joseph Muscat. I don't want to be salesman like Muscat, who today is in Singapore selling passports, his fourth similar trip in a year. I want to be a statesman who leads the country in a serious way. This can only be done by advocating the truth and honesty and not by sowing the seeds of division."
Last week, Mizzi claimed that an audit investigation found irregularities in the €35 million feed-in tariff contract awarded by the previous Nationalist administration had awarded
Asked whether he had faith in the police, which he has in the past accused of succumbing to political interference, Busuttil said "I hope that the police commissioner, who shoulders great responsibilities, carries out his duties correctly as we all expect him to do."
Speaking in Mosta this morning, Busuttil said that Muscat was only using the allegations to deviate attention from his failure to deliver a new poer plant in Delimara by March 2015 as promised before the general election.
Pointing out that Muscat had promised to resign if the Delimara power plan is not completed within two years, Busuttil said that Labour's electoral victory in 2013 was based on a lie.
Insisting "government is built on a lie" he asked "do you want a Prime Minister you cannot trust?"
He said that every time the Labour government is in difficulty "it resorts to throwing mud at everyone. But I have nothing to fear, because when you are clean there's nothing to fear."
The PN leader added that the people could now see through Labour's tactics and see that it is "dirty."
George Pullicino yet to be summoned by police
Meanwhile, George Pullicino issued a statement in which he said that the police have not yet summoned him to give his version of events.
"Last week I wrote a letter to the Police Commissioner in which I asked him to investigate whether I committed any illegalities," Pullicino said, adding that to date he has not been called by the police to give his version.
He added that the allegations are nothing but an attempt on government's part to deviate attention from its failure to honour its promise to complete the power plant by March 2015.
"In its attempt to do so it chose to tarnish my reputation," he said, adding that he had nothing to hide and was ready to cooperate with the police.
"I reiterate that I was not involved in the tendering process. If there's a minister who is interfering in the awarding of tenders, than he is corrupt," the MP said.