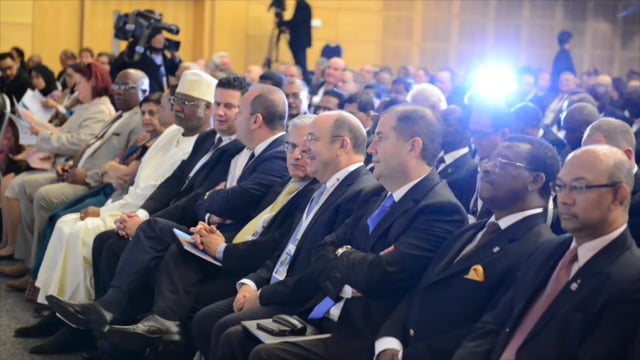 'Business is among the strongest voices in the Commonwealth' - PM • Video by Ray Attard
Business can be amongst the strongest voices of the Commonwealth, Prime Minister Joseph Muscat said during the launch of the Commonwealth Business Forum at the Hilton Hotel earlier today.
Speaking about the already exisiting trade among the countries, Muscat said that the states should continue to build these bonds in spite of geographical distance.
"Malta is proud to act as a facilitator of dialogue both during the Valletta Summit and of business, during this forum," he said, adding that Malta recognizes no borders when it comes to trade.
During his speech, Muscat also explained that the CHOGM was giving importance to various asects that were priorities for Malta's own government.
"It is fitting that Malta is the country to host the first ever Commonwealth Women's Forum," he said, adding that it was designed to celebrate the achievements and the presence of women over the years.
"Ideas and knowledge lie in all aspects of society," he said, highlighting that breaking the so-called glass ceiling was in the interest of employers, who were missing out on talent.
In his own intervention, Commonwealth Secretary General Kamalesh Sharma also mentioned the importance of female entrepreneurship and how businesses and countries were denying themselves possibilites by not embracing women's contributions as much as we should.
Speaking about the topics to be discussed, Muscat said that technology was also something that required attention, with the digital revolution strengthening over the years, and countries needing to adapt to new values, rules and models. He explained that the Digital Malta strategy was a response to the realization that innovation is necessary, not just in technology but also in the laws that govern them.
"We open our arms to entrepreneurs and support foreign direct investment to strengthen the local economy," he added, stressing that this highlighted the importance of open borders and businesses..
Muscat added that Malta had also made its own suggestions for the Commonwealth to be sharper and more purposeful.
Chairman of the Commonwealth Business Forum organising committee Adrian Hillman said the forum was aimed at allowing members to push sustainable development on a global platform
"We believe the Commonwealth will give these countries a platform to engage and make a difference in world trade," he said, adding that estimates suggested that Commonwealth countries could expect an average growth of over 7.3% in their economy for the next seven years.
He aded that among topics to be discussed were infrastructure including pension funds and welfare funds, technology, healthcare and financial services as well as trade and Islamic finance.
"The next three days will be a unique opportunity to learn and engage with governments on a business platform," he said, stressing that Malta is at a geographical and cultural crossroads, and that it therefore had to use this position well.
Chairman of the Commonwealth enterprise and investment council Lord Marland of Odstock said that the Commonwealth was bringing together some 1,200 people from businesses around the world and 20 heads of state.
"We do not make a distinction between growth and government, they are two sides of the same coin," Sharma said, adding that in a global Transparency Internationl ranking, eight of the 18 listed countries were Commonwealth states.
Speaking about the importance of making societies resilient, Sharma said that resilience in society is inconceivable without prosperity. He added that every citizen wanted better governance and services and that that was the aim of the Commonwealth.