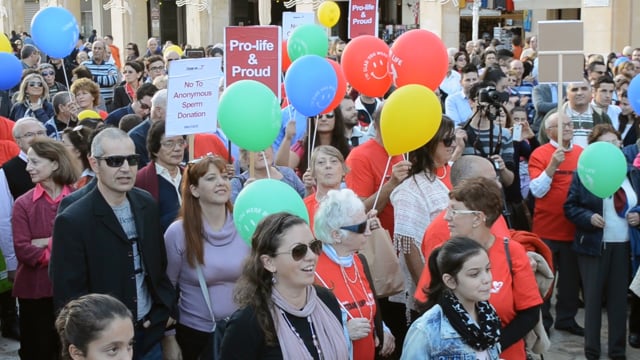 'Evil is at your doorstep, it must be stopped' - demonstrators take part in rally against embryo freezing • Video: Chris Mangion
Hundreds of 'pro-life' campaigners, including MPs from both sides of the House, took the streets of Valletta today in a rally against abortion and embryo freezing.
The rally, which was organised by the Gift of Life Foundation and the Life Network Malta, was attended by Government Whip Godfrey Farrugia, Nationalist MPs Tonio Fenech and Antoine Borg, as well as Kate Gonzi, the wife of former Prime Minister Lawrence Gonzi. Now-independent MP Marlene Farrugia and Labour MP Deborah Schembri – who have both come out against embryo freezing – were not in attendance.
Miriam Sciberras, the Chairperson of the LifeNetwork Malta, said that any amendments to the Embryo Protection Act would "objectify life" and used as a pretext to introduce abortion in Malta.
"Abortion comes in slowly. If we start making exceptions, it could result in disastrous consequences … We should not compare Malta with other countries as these have lost all respect to human life and in some cases respect animals more than humans," Sciberras said.
Refuting claims to having used Gianna Jessen - the US abortion survivor who was born during a failed saline abortion in 1977 – and abortion as a tool to protest against embryo freezing, Sciberras told MaltaToday that the rally was not aimed at demonstrating against abortion, but at protesting embryo freezing.
"Any proposal that may endanger the life of embryos is unacceptable and should be refused. Embryo freezing stops life as 30% of the embryos lose their life. We have a law which is working without any loss of life, why should we change it?" Sciberras said in comments to MaltaToday.
Addressing the sizeable crowd gathered in front of parliament, Sciberras said it is untrue to say the rally is targeting those couples experiencing difficulties conceiving children, and while objecting against using embryo freezing so that gay couples could have children, she said it is "natural" that same-sex couples could not have their own biological children.
The Chairperson of the Life Network urged MPs to use common sense and to reject changes to Embryo Protection Act, underlining that "no compromises should be accepted as this would lead to abortion".
"Equality should not be made at the expense of children, human life must be protected from conception … This country prides itself on legislating in favour of equality and it would be contradicting if the government were to exclude the rights of children under the pretext of equality," she said.
Gianna Jessen, the US abortion survivor who has been rolled out by the pro-lifers in an effort to reinforce their message against embryo freezing, urged the crowd to "stand and fight as evil lies at your doorstep [sic]". Jessen, who was born during a failed saline abortion in 1977, said that embryo freezing would "usher in" abortion.
"Abortion is all about women's rights, but what about the rights of the unborn child? … I urge you all to protect the vulnerable and to fight the change that would devalue life and to fight death. Change generations rather than succumb to trends and whims," Jessen added.
In her address, Jessen said she was "born through the power of Jesus Christ", insisting that she was in Malta to protest against the "ushering in" of abortion.
Meanwhile, in comments to MaltaToday, Government Whip Godfrey Farrugia insisted that his position against embryo freezing did not go against party lines or the prime minister's stand, and claimed that Muscat knew about his participation. Asked whether he would insist for a free vote on the introduction of embryo freezing, a cautious Farrugia said this would be a decision taken by the Labour parliamentary group.
The rally was also endorsed by the National Council of Women, Gift of Life, and the Unborn Child Movement, amongst others.
The demonstrators – many of whom were carrying placards in favour of life and against embryo freezing and sperm donation – were also urged to sign a petition against embryo freezing and to enshrine the principle of protection of the unborn child in the Constitution of Malta.