Government asked to explain allegations of 'illegal permits' for ODZ development in Siggiewi
Environment speaker Ryan Callus was referring to allegations that the daughter of former labour MP Bertu Pace had obtained false documentation for the construction of a villa on ODZ land. • OPM insists that the case is currentlu under investigation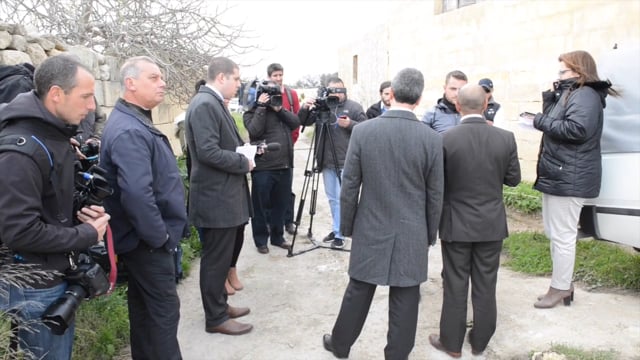 Government asked to explain allegations of 'illegal permits' for ODZ development in Siggiewi
The Nationalist party has urged the government to speak up and offer some explanation in reply to allegations made in the media regarding permits issued to allow construction on agricultural land in Siggiewi.
Environment speaker Ryan Callus was referring to allegations that the daughter of former labour MP Albert 'Bertu' Pace had obtained false documentation for the construction of a villa on ODZ land.
The permit, which would turn a 25-square-metre garage into a driveway for a 280-square-metre villa on agricultural land, was approved, despite an anticipated refusal, after a letter from the agricultural department to the Mepa decision-making board arrived at the last minute.
The permit was issued in the name of Roderick Farrugia, son-in-law to MP Bertu Pace. The architect named on the application in Labour MP Charles Buhagiar, executive chairman of the Building Industry Consultative Council.
Callus explained that the PN was concerned that the government had not reacted to the allegations although they had been made two days ago.
"An investigation into whether the person who signed the declaration was indeed the assistant vet officer or not is already underway," Callus said, adding that work on the site should stop until the case was truly cleared.
He added that Mepa should use all its powers to ensure that the 280 square metres of agricultural land is not destroyed.
Callus further urged the environment commissioner to launch an investigation into the case, as well as the police commissioner to look into whether the case constitutes a crime.
General elections candidate Charlot Cassar said that the case was a clear example of the way the government chose to selectively change laws to benefit those closest, to the detriment of others.
In a statement issued in response to the press conference, the Office of the prime minister said that an investigation into Farrugia was currently underway.
"The Opposition is referring to issues that are currently under investigation," the statenebt reads, insisting that the government always takes action on such issues.