[WATCH] Fenech Adami claims 'Gaffarena controls institutions', Labour hits back at MP
Nationalist MP says police were slow in investigating Gaffarena expropriation when PM had already ordered IAID audit and PN had tasked NAO to investigate controversial expropriation • Labour says Fenech Adami's previous relations with Gaffarena make him most apt to speak property developer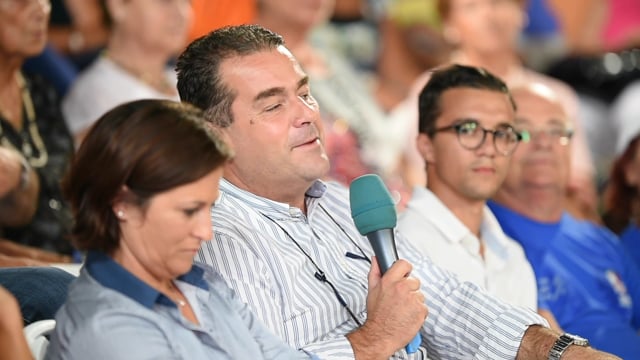 Fenech Adami wants police investigation inside OPM over Gaffarena ties
Shadow home affairs minister Beppe Fenech Adami has called for a police investigation into the ties between the Office of the Prime Minister and property developer Marco Gaffarena.
The Prime Minister last week initiated a court action to recoup public lands transferred to Gaffarena by the Government Property Department in an irregular expropriation of Gaffarena's 50% share in a Valletta palazzo for €1.65 million in compensation.
A court yesterday issued a temporary prohibitory injunction on six parcels of land that Gaffarena received for his share in 36, Old Mint Street.
Addressing the press outside the police headquarters in Floriana, Fenech Adami said that the police "should be investigating Castille directly".
Fenech Adami said that when news of the Gaffarena expropriation broke back in June 2015, the Economic Crimes Unit should have been deployed to investigate the matter. But Fenech Adami claims that the presence of former police commissioner Ray Zammit's sons, Roderick and Daniel inside the ECU, meant that any investigation would have been stultified by the fact that the Zammits themselves had a business association with the Gaffarenas.
Ray Zammit resigned the force in December 2014, while one of his sons retired on medical grounds.
That same year, the prime minister ordered an investigation by the OPM's internal audit and investigation department after from the PN's request for the National Audit Office to investigate the expropriation. Both reports, published when the NAO delivered its report two weeks ago, forced the resignation of parliamentary secretary for lands Michael Falzon.
"Instead of investigating the allegations, the police closed one eye while for nine whole months, any single trace of corruption was destroyed," Fenech Adami claimed.
The MP also claimed that "Gaffarena was in control of every single institution", naming the Lands Department, the police corps and the Office of the Prime Minister. "The things we witnessed over the past few days continues to prove that Gaffarena was indeed in control of all these institutions," he said, referring to prime minister Joseph Muscat's reaction to the NAO report.
In a reaction, Labour accused the Opposition of ignoring the government's efforts at shouldering responsibility for the expropriation, "to the contrary of what happened under Nationalist administrations, where no responsibility would ever be shouldered. It is ironic that it was Fenech Adami to address this press conference, who was a lawyer for Gaffarena, and his wife a notary for him, as well as having dined with him. He is the person most suitable to speak about relations with Gaffarena."