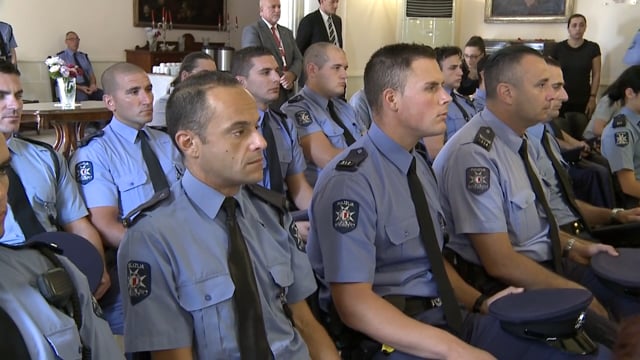 Tourism police pilot scheme launched
Specially-trained tourism police officers will as of today start regular patrols in St Julian's and parts of Sliema under a new pilot scheme aimed at offering tourists in the areas a better service tailored on their specific needs.
Home affairs minister Carmelo Abela and tourism minister Edward Zammit Lewis presented a certificate to 41 police officers, marking the completion of a specialised training course organised by the Institute for Tourism Studies and supplemented by additional training at the police academy in Ta' Kandja.
The training focused on how the police officers were to deal with questions and concerns that could be raised by tourists, crimes that are typical of tourist areas, such as pickpocketing, first aid and CPR, consumer rights and knowledge of historic sites and places of interest.
Working in groups of four per shift, the new tourism police officers will patrol on foot the area between Spinola and Ghar id-Dud, and the Sliema front between Tigne Point and Manoel Island, including Bizazza Street.
They would be on duty between 2pm and 2am
This duty would be considered as extra duty and tourism police officers would be paid accordingly, with the additional income being taxed at the previously-agreed reduced rate of 15%.
Minister Abela said that a call for tenders will be issued shortly for the provision of an electric vehicle to assist the tourism police officers in their new duties.
The electric vehicle will be financed by the Foundation for the Development of Tourist Areas.
Abela reminded the police officers that they would be serving as ambassadors for the police force and the entire country as they would inevitably become the first point of contact for many of the tourists.
Tourism minister Zammit Lewis said this scheme was being introduced at the perfect moment, with the number of tourists visiting Malta increasing every month.
More than 1.8 million tourists visited Malta last year, and the number of visitors the first four months of this year was, on average, more than 10% higher over the same period last year.
"For May and June, we are expecting to register an increase of more than 14,000 visitors, while more than 250,000 tourists are expected to visit Malta in August alone," Zammit Lewis said.
He said Malta was considered to be one of the safest tourist destinations for tourists, and highlighted the importance of continuing to promote this positive outlook when promoting Malta.