Pro-Gaddafi aeroplane hijackers arrested, all 118 passengers and crew unharmed, weapons revealed to be replicas
Two hijackers reportedly from Al Fateh Al Gadida on board Libyan aeroplane with 111 people and seven crew, including one infant, on board touches down in Malta • Negotiators include Libyan transport minister Milad Matoug • Reports of a Libyan MP being on board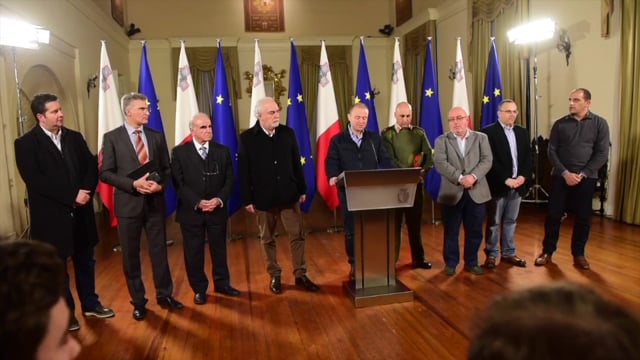 Prime Minister's Press Conference on Afriqiyah Hijack
Two Muammar Gaddafi loyalists who hijacked an internal Libyan flight carrying two pistols and a hand grenade were arrested after diverting the plane to Malta this morning and then surrendering.
In a surprising twist, Prime Minister Joseph Muscat tweeted at 6.45pm that forensic examinations had discovered that the weapons used by the hijackers were replicas.
Following a brief standoff, all the passengers and crew were allowed to exit the plane without violence.
There were 111 passengers on board – 82 males, 28 females, and one infant – as well as seven crew members.
Libyan law-maker named as Abdel-Salam al-Marabet was reportedly among the passengers.
The four-hour standoff ended when the two men, who reportedly claimed they wanted to launch a new political party, came out of the Afriqiyah Airways plane with a crew member who was their final hostage.
Initial forensic exams now showing weapons used in Afriqiyah hijack are replicas.

— Joseph Muscat (@JosephMuscat_JM) December 23, 2016
"Hijackers surrendered, searched and taken in custody," prime minister Joseph Muscat tweeted, after the 118 passengers and crew on board were allowed to leave the plane in batches.
As negotiations – led by Armed Forces of Malta commander Jeffrey Curmi – were underway one of the hijackers told Libya's Channel TV in a phone call that he headed a party supporting Gaddafi, and had organised the uprising to promote the group.
The two hijackers, named as Mousa Saha and Ahmed Ali, reportedly demanded political asylum in Malta, however at a press conference held in Valletta an hour after the ordeal was over, Muscat denied this and said that "no requests were made."
He said his government refused to entertain any of the hijackers' demands before all passengers and crew members were released.
Despite saying that a request for political asylum would not be met, he did not exclude the possibility of the two hijackers applying for asylum.
Muscat also said that the rest of the crew and passengers were questioned to ascertain events and once the interrogation is completed the passengers and crew members will be flown back to Libya on another Afriqiyah aircraft.
It has been established that #Afriqiyah flight has 111 passengers on board. 82 males, 28 females, 1 infant.

— Joseph Muscat (@JosephMuscat_JM) December 23, 2016
Informed of potential hijack situation of a #Libya internal flight diverted to #Malta. Security and emergency operations standing by -JM

— Joseph Muscat (@JosephMuscat_JM) December 23, 2016
Muscat's chief of staff, Keith Schembri – recently at the centre of a controversy about his health – was present for the press conference at Castille.

Pro-Gaddafi party
The hijackers reportedly form part of a pro-Gaddafi group called al-Fateh al-Gadida, whose name is drawn from the 1969 revolution that saw the late colonel ascend to power in Libya.
The hijackers had reportedly threatened to blow up the plane unless their demands were met. It is as yet unclear what their demands were and whether or not these demands have been met.
The aeroplane, Afriqiyah Airbus A320, had departed Sabha in south-west Libya for Tripoli at 10:10am, but was instead diverted to Malta International Airport at 11:20am.
After releasing the passengers, one of the hijackers briefly stood outside the plane with a green flag of Gaddafi's Libya.
Libya's autocratic former leader was toppled then killed in a 2011 uprising, but since then much of the country has slid into violent chaos, with various tribes and factions vying to take control of the country and its vast oil resources.
The country currently has three rival governments, including the UN-picked government of national accord (GNA) in Tripoli, the Islamist-dominated National Salvation government also based in the capital and an internationally recognized parliament based in Tobruk.
Veteran army general Khalifa Haftar, who is aligned with the eastern parliament and government based in Tobruk also wields huge influence and currently controls huge swathes of eastern Libya, including major oil export facilities.
Afriqiyah Airwaysflight #8U209, Airbus A320, from Sebha to Tripoli, Libya reportedly hijacked to Malta pic.twitter.com/9cf0EHi80T

— Aviation Safety Net (@AviationSafety) December 23, 2016
The two hijackers are believed to be from Sabha, the capital of the southern region of Fezzan, a hotbed of support for the old regime.
Last year, a number of pro-Gaddafi protests in Sabha – where the green flag is not an uncommon sight – turned into armed clashes when armed groups aligned with the Tripoli government tried to stop them from taking place.

How events unfolded
The Airbus A320, operated by the state-owned airline Afriqiyah Airways, was hijacked on an internal route between Sabha and Tripoli.
Just after 11:30am, Muscat announced in a tweet that he had been informed of a "potential hijack situation of a Libya internal flight diverted to Malta."
Most news updates were provided by Muscat through Twitter, and he later announced that the passengers would be released just before 2pm.
As the negotiations were ongoing, the airport and the surrounding areas were sealed off and members of the security forces were on site controlling the situation.
In a statement issued a few minutes within the unfolding saga, the Malta International Airport said that there was "an unlawful interference at the airport" and that all emergency teams were dispatched.
MIA informed passengers in the departures lounge that all flights had initially been cancelled or diverted until further notice. At 12.43pm, the airport informed passengers that airport operations had resumed. Lufthansa and Ryanair flights left the airport shortly after.
Flights leaving the MIA were delayed, while a number of flights scheduled to land at the airport in the afternoon were diverted to Catania.
In a brief statement, the Maltese government said that Muscat had summoned the National Security Committee meeting to convene in Castille.
The head of communications at the Prime Minister's office, Kurt Farrugia, tweeted at 1.15pm that Muscat had just spoken to Libyan Prime Minister Faez al Serraj (GNA) who was in Malta for an official visit just a few days ago.
The GNA's transport minister Milad Matoug – who has a home in Malta – is thought to have also been involved in the negotiations with the hijackers.
MIA operations back in full swing by end of day
Malta International Airport advised passengers that airport operations were returning to normal and that its schedule would fully recover by the end of the day.
As at 6pm, three outgoing flights remained delayed, while seven incoming flights were expected later in the evening.
In all, 44 flights had been affected during the day while negotiations were underway with the hijackers aboard the diverted aircraft on the apron.
Nine incoming flights had been while delays were registered across 20 departing flights and 15 arrivals.
MIA praised the emergency response teams' reaction to the emergency.
"Our topmost priority was to maintain our safety and security standards across the airport campus, and safeguard our passengers and colleagues at all times," MIA said.