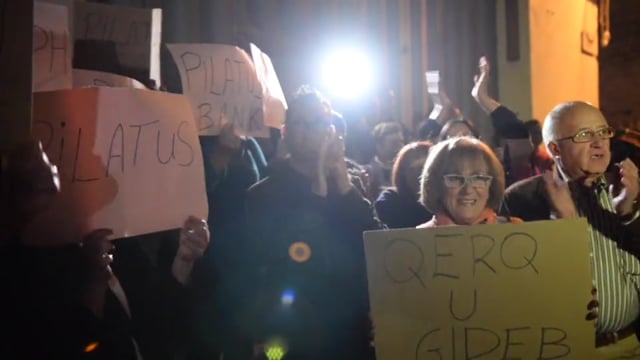 Joseph Muscat, Simon Busuttil go head-to-head on Xarabank
Prime Minister Joseph Muscat and Opposition leader Simon Busuttil went head-to-head in a live TV debate on Xarabank, filmed without an audience, where the two leaders jostled over allegations by Daphne Caruana Galizia that Muscat's wife was the beneficial owner of a secret offshore company.
While Busuttil insisted that the only evidence required to prove that the offshore company Egrant belonged to the Muscat family had been in the Prime Minister's body language and his actions, Joseph Muscat this evening accused Caruana Galizia of having reproduced falsified information.
Outside the TV studio, party faithful waited outside for the arrival of PN leader Simon Busuttil, in a show of support. Inside, a debate unfoleded that was marked by accusations and rebuttals, with little being made known on the physical evidence or proof held by both sides to sustain their allegations.
Viewers were left none the wiser over the whole saga, with Muscat insisting that the allegation was a fabrication and Busuttil accusing him of leading the most corrupt government in history.
"Are you ready to endorse your friend's revelations?" Muscat asked Busuttil, over Daphne Caruana Galizia's publication of a text reproduced from the declaration of trust that Nexia BT handed to Pilatus Bank in which it says Michelle Muscat is the beneficiary of the company.
Busuttil refused to entertain Muscat's question and answer with a yes or no, arguing that he simply did not believe him. "He became an accomplice the moment he didn't sack Keith Schembri and Konrad Mizzi. I promise that, if elected, I will investigate this man and all of them."
As Busuttil failed to reply whether he believes that Caruana Galizia's transcript was genuine or not, Muscat jabbed him saying he was right to doubt it: "Whoever falsified this document has made two massive mistakes: first it lists the address of a company, supposedly in Panama, with an address in San Gwann and, secondly, it claims that owners of Egrant first sold the company to Brian Tonna in 2013, and the same owners then sold it again in 2015."
"Either someone has fed you false information or you're the one faking the information."
Initially caught by surprise, Busuttil said he was "sorry" for the way Muscat was reacting: "I'm a normal citizen who wants the truth to out… blaming other people doesn't wash… you have tarnished this country's reputation."
The PN leader later pointed out that Nexia BT's offices are located in San Gwann and that address referred to Nexia BT – Nexia BT is the Malta agent for Mossack Fonseca, the Panamanian law firm that specialises in the creation of offshore firms.
The ICIJ website also places Egrant's address in San Gwann, as it does for the other two offshore companies, Hearnville Inc and Tillgate Inc.
Muscat retorted that the attack which Busuttil had launched had hit back "like a boomerang".
"People are judging you over this invention," Muscat told Busuttil. "They're judging your character and how politically desperate you are. You thought you were dropping the mother of all bombs without realizing that you dropped it on yourself."
Throughout the programme, Busuttil reiterated that Muscat was not credible: "The Prime Minister's closest people have been found to have opened offshore companies with the intention of holding millions. And now we learn that Egrant is owned by Michelle Muscat, hence by Muscat.
"Muscat, instead of being here, should be at the police headquarters for interrogation. They have turned Malta into mafia-type film."
Asked what evidence did he have, the PN leader replied: "We are not in a court of law… people will judge you; they are reading your body language. People are today judging you from the way you act. The evidence is in your actions."
Busuttil argued that the evidence was in how the whole affairs was handled, reiterating that the luggage which Pilatus Bank chairman Seyed Ali Sadr held on Friday night as he was filmed by Net News held "bank documents". The chairman today said that he had just arrived from the airport.
The Opposition leader, who at one point also declared that whether Egrant belonged to Muscat or not was "irrelevant", also said that if he were the Police Commissioner, he would have immediately sealed the premises.
Muscat defended himself by reiterating that it's absolutely clear that bank transactions can never be deleted as they are recorded internationally.
"You are repeating a lie without any evidence," he said.
At one point, the two leaders made a pact to stop attacking family members. It came after Muscat accused PN media of hounding his wife and his twin daughters, with Busuttil reminding Muscat that his aide Glenn Bedingfield had also attacked his partner, Kristina Chetcuti, through his blog.
With a brief and cold handshake, the two leaders agreed to never drag families into politics again.
In his closing comments, Busuttil reiterated that Muscat was "responsible for the network of criminality that starts at Castille". He said, that Muscat failed to deny that his chief of staff held an account with Pilatus Bank.
Muscat once again reiterated that Busuttil had failed to present any proof, resorting to mudslinging.
Both leaders took the opportunity to encourage their respective supporters to join their "national demonstrations": the PN's is being held on Sunday whilst Labour's is being held on May 1, Worker's Day.