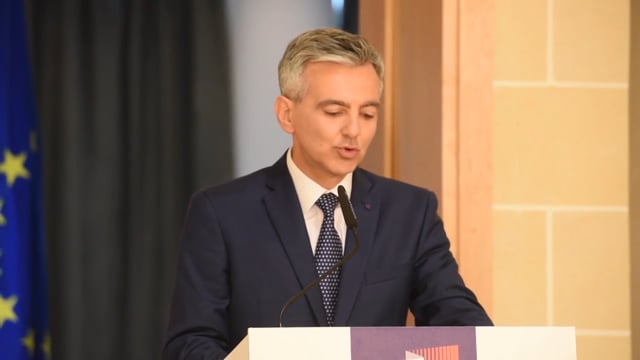 Busuttil says he has evidence of €650,000 payment from Schembri to Adrian Hillman
Opposition leader Simon Busuttil has announced he has received new information and evidence of a "new case of criminality and corruption" implicating Joseph Muscat's chief of staff Keith Schembri.
Busuttil said he has in his possession an entire cache of documents showing how Schembri paid former Allied Group managing director Adrian Hillman €650,000 in payments between 2011 and 2015 without any form of explanation.
"The payments came from secret structures that indicate a textbook case of bribery and money laundering," Busuttil said.
Schembri's Kasco Group had won a competitive tender to supply Allied Group's Progress Press with its printing press in 2010.
Busuttil said Schembri used Gibraltarian company Malmos and various bank accounts in Switzerland and Gibraltar, as well as his Pilatus bank account, to pass on money to Adrian Hillman or Hillman's offshore company in the British Virgin Islands company Lester Holdings.
In one payment, Busuttil said that Schembri passed on $169,000 from Schembri's Credit Suisse account, and then invested the money in international bonds through financial intermediaries.
In another transfer, Schembri used Malmos Limited to passed on €135,000 to a Jyske Bank (Gibraltar) account, which amount was that same day invested in six international bonds and funds.
Through Malmos, on a later occasion Schembri paid Hillman's Lester Holdings €125,000, which was then paid into international bonds.
Another transfer saw Schembri pass on €100,000 to Lester Holdings and again these were invested in international bonds.
Another €154,000 amount was split into some 24 payments, of usually €5,000 each, to pass through various bank accounts, among them Pilatus Bank where Hillman had an account.
Busuttil said these payments indicated "an intention to launder money" and that no explanation existed for Hillman to receive these monies. "Indeed, the invoices used to justify these transfers into Pilatus Bank are manifestly suspicious, tampered and swiftly drawn up."
Busuttil said Lester Holdings had only received cash from Schembri or his companies, and that Lester's account at Pilatus Bank was closed soon after the Panama Papers broke.
Busuttil also said he knew that Commissioner of Police Lawrence Cutajar was aware of this case at least since 2016, but had not carried out any investigation. "This is a serious shortcoming of anyone involved in this cover-up."
Busuttil said he had recieved the evidence in the last weeks, and that he would take the evidence to the magistrate investigating kickback allegations against Schembri.
In a reaction, Keith Schembri said that he was "glad" that the matter will be placed before the magistrate, "so that the truth of Busuttil's witch-hunt is uncovered".
"Simon Busuttil is at it again. He has rehashed an old story that has been out in the media since last year. I have already provided all my answers on the matter concerning private business I carried out prior to my appointment to public office, which business has all be documented, declared and tax paid thereon here in Malta. I will not comment further," Schembri said in a press statement.
"It is evident that Simon Busuttil is in complete panic in view of the total collapse of his politics of division. Pity that Simon Busuttil has to project his inadequacy and incapability in this manner, however I am certain the Maltese will see right through this now very evident, yet dangerous partisan strategy."
Hillman also issued a statement, arguing that he never received any monies from Keith Schembri or any of his companies for any work related to his role at Allied Newspaper Ltd and Progress Press Ltd or for that matter any government work.
"The matter has been the subject of media speculation for over a year and which has always been refuted. This matter was also the subject of an Internal Inquiry appointed by the Allied Newspaper Board, which Inquiry has been settled since nothing illegal or of a criminal nature as alleged by Simon Busuttil was uncovered," Hillman said.
"Any work I may have assumed during my time with the Times where never in conflict with my role as Director. Most of this work, it should be noted, was carried before 2013. All work that I have carried out, outside my role of Director have been duly invoiced and taxes paid thereon."
Hillman said that he will also be seeking legal advice with a view of protecting his reputation from "such malicious and unfounded allegations, including that of filing a complaint with the Police against Dr Busuttil for making false and calumnious allegations in my regard".
Busuttil's press conference comes two weeks after a magisterial inquiry was launched into allegations that Joseph Muscat's wife was the beneficial owner of an offshore company, and a week since another magisterial inquiry was launched into alleged kickbacks paid to Muscat's chief of staff Keith Schembri over the sale of passports.
The PN leader said that the police's failure to investigate the bribery claims has exposed them to a serious conflict of interest in their role as investigators in the two magisterial inquiries.
"How can it be that the police are helping the magistrate investigating Muscat and the magistrate investigating Schembri when they themselves had concealed information that would have helped the magistrates in their investigations?
"The police commissioner and every other person in the police force involved in this cover-up have betrayed their oath of loyalty towards the Constitution," he said. "This further confirms that the country's institutions, authorities and rule of law have totally collapsed. Instead of defending citizens, the authorities are defending criminals.
"Everyone now knows that Malta has been caught up in a web of corruption and criminality involving the people closest to Joseph Muscat. The people at Castille are not only corrupt, but they are criminal too."
He pre-empted Schembri's prompt denial, arguing that his facts were solid and that any denial by the Prime Minister's chief of lie would amount to a lie.
"Indeed, the only choice Muscat and Schembri have left to save their skins is to lie."
Busuttil dismissed Muscat's recent claims to have internal information from within the Nationalist Party that the Egrant allegations were nothing but a lie orchestrated by the PN.
"The Egrant allegations were not made by myself, but by a whistleblower…a foreign whistleblower. I definitely couldn't have told her what to say," he said. "She used to work at Pilatus Bank and she saw with her own eyes the documents locked in a safe."