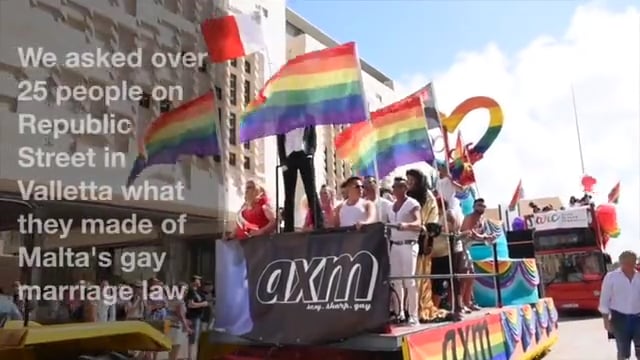 What do people in Malta think about the legalisation of gay marriage?
Malta will make another leap forward in LGBT rights this evening, with gay marriage set to be legalised.
Ahead of this historic moment, MaltaToday randomly approached people going about their everyday lives in Republic Street to get their take on it.
Out of the 25 people who agreed to speak on camera, the vast majority said they agreed with or had no problem with gay marriage – with the most common argument being that gay people should have the same rights as everybody else.
"I agree 100%...everyone has the right to live their lives," a middle-aged man said.
"I think they deserve the right to be married, because we're equal and there shouldn't be a difference between a man who marries a woman and a man who marries a man," a young man said.
"I think they should be given this right. Had I been gay, I would have wanted that right.." an elderly man.
An elderly gay man said that although he does not intend to get married himself, other gay people should be given the same rights as everyone else.
"Why shouldn't we have the same rights as other people? We pay taxes like everyone else…"
A young man who was exiting court admitted that he hadn't even heard about the plan to legalise gay marriage. When it was explained to him, he said that he agreed with the proposal.
"I don't see anything wrong with it. Everyone has their thing…it's not going to affect me," he said.
However, a handful of people said that they disagreed with the proposal – with an elderly man sitting in the shade by St John's Co-Cathedral admitting that it went against his "strong and fervent" Catholic convictions.
A young woman warned that gay couples will "confuse" the children they adopt, while an elderly man said that, while he agrees with civil unions, people get married so as to have children.
"Even with animals…it's always a male and a female…"
Meanwhile, a Franciscan priest warned that the majority are not always correct, noting that even Hitler and Mussolini had been elected to power by the people.
"You know what happened when Pilate asked the crowd to choose between Jesus Christ and Barabbas. They said 'crucify him, crucify him'. That's the same story for Christians."