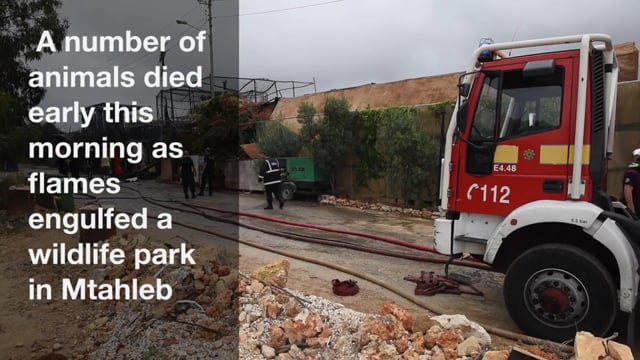 Mtahleb animal park fire: two leopards and monkeys amongst animals killed
Two leopards, three parrots, two lemurs, two monkeys and a squirrel monkey have been killed this morning when a major fire broke out before dawn in an animal park in Mtahleb.
Various tigers, lions, a puma and bears moved into a pool of water and survived, while the remaining monkeys were rescued.
Amongst the unfortunate victims were the popular leopards known by their names, Ms Baghera and Mr Buddy.
The fire broke out at around 4.30am, and the owners of the Wildlife Animal Park – whose home is on site – frantically tried to save the animals as they called the police for assistance.
The owners, who were not injured in the fire, were treated for shock on site. Their house was destroyed by the blaze.
Several fire crews were deployed by the Civil Protection Department. A court expert is on site as investigations have been launched into the cause of the fire. A magisterial inquiry is being led by Magistrate Marse-Ann Farrugia.
Veterinarians and animal welfare were called on-site, to aid the animals. The Animal Welfare Department said that the majority of exotic animals were saved. According to director Noel Montebello, amongst the animals saved were a dogs and its puppies, birds, young exotic animals, tigers and lions.
Parliamentary secretary Clint Camilleri also descended on site, pledging the Animal Welfare Department's full cooperation in assisting the transfer of animals.
The wildlife park was known as Malta's first small-scale zoo, where lions, otters, flamingoes and even a bengal tiger all coexist. For years, owner Chris Borg had been on a mission to get the Planning Authority to regularise his position, with PA finally sanctioning his set-up in Mtahleb in 2014.
After applying for a zoo license, Borg was finally able to fulfil his dream and turn the 2,000sqm of land into an attraction.