[WATCH] Updated | It's open warfare in the PN in the wake of journalist's murder
Urgent meeting of PN parliamentary group as Daphne Caruana Galizia's murder drives the wedge deeper and rebel MPs out their anger at leader Adrian Delia, criticising his supporters for attending Sunday's demonstration. Hear what PN MPs had to say about their leader's absence from the manifestation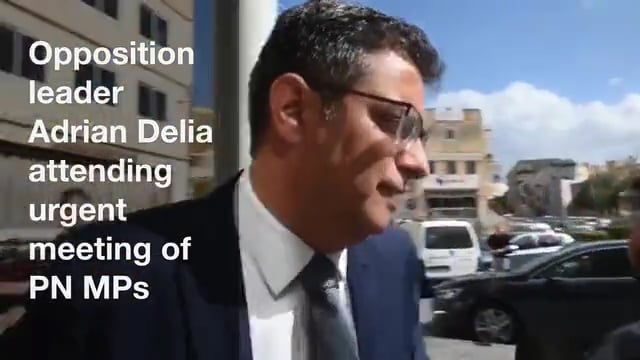 Adrian Delia entering urgent parliamentary group meeting at PN HQ
The Nationalist Party group has been called for an urgent meeting at the party headquarters in the wake of divisions that became more apparent in the aftermath of Daphne Caruana Galizia's murder.
Talking to MaltaToday on his way in, PN leader Adrian Delia denied he faced a rebellion in the parliamentary group and insisted he had unity. He said it was wrong if the government tried to shun responsibility for the murder by shifting its focus onto the PN.
However, former leader Simon Busuttil chose not to comment about Delia's absence at the national demonstration held in Valletta on Sunday to demand justice for Caruana Galizia.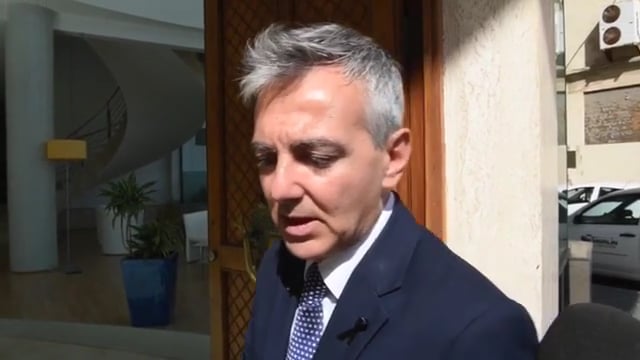 Simon Busuttil on his way in to parliamentary group meeting
Listen to what other PN MPs had to say when asked whether Delia should have been present at the demonstration.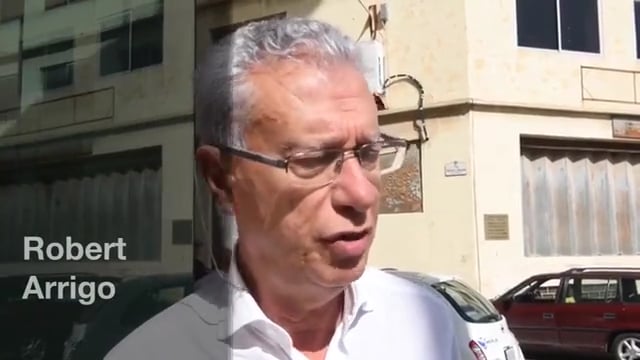 PN MPs on Delia's absence from the demonstration
The parliamentary group meeting follows a Facebook post put up this morning by MP Jason Azzopardi, who hit out at those who demonised Daphne Caruana Galizia during the summer only to turn up at Sunday's demonstration.
In a Facebook post, Azzopardi observed what he described as the "quick way" in which some people changed.
Although he did not mention names, the message was clearly referring to PN leader Adrian Delia's supporters.
"Yesterday in Valletta among those clapping were those who during the summer encouraged, instigated, fanned and spoke against Daphne Caruana Galizia, so that she would be left alone, without support, be discredited and blamed for the electoral defeat," Azzopardi wrote.
And in another Facebook post Azzopardi said with displeasure that Net TV had instructions not to film any MPs attending Sunday's demonstration.
READ ALSO:
Nationalist leader Adrian Delia is facing a rebellion from MPs who are now considering a 'plan B'
Adrian Delia backs out of protest after realising 'rebel' MPs will not walk with him
But Azzopardi's tirade was not the only one taking pot shots at Delia's supporters and his own party's direction under the new leader.
Former secretary general Paul Borg Olivier also took umbrage at the appearance on Net TV of lawyer Arthur Azzopardi on Sunday evening, discussing the murder.
Azzopardi was Adrian Delia's lawyer and the one who filed the five libel cases instituted by the PN leader against Caruana Galizia over the summer months.
However, the lawyer had also been outed as a freemason, forcing the PN's administrative council to remove his party membership and subsequently denied him the right to vote in the leadership election.
The PN statute explicitly bars its members from being freemasons.
Azzopardi had confirmed he was a freemason for about three years between 2009 and 2011, but was kicked out after he wanted it to reform its secrecy rules.
Borg Olivier described Azzopardi's presence on Net TV "an insult", which promptly elicited harsh criticism from Delia's supporters.
Sliema local councillor Pierre Portelli hit out at Borg Olivier, claiming that with his reasoning nobody could redeem himself.
"Let us continue harming the PN that 'gave birth to democracy'," Portelli wrote in what is evidently a sarcastic jibe at the former secretary general.
In another poignant reaction, Rabat councillor Rudolf Grima urged PN members to stop undermining Delia.
"I'm sorry Paul but we cannot go on with this charade against Adrian Delia… as far as I know he was elected democratically by the majority of the members. Now we either practice what we preach or else it's the end my friend," Grima wrote.