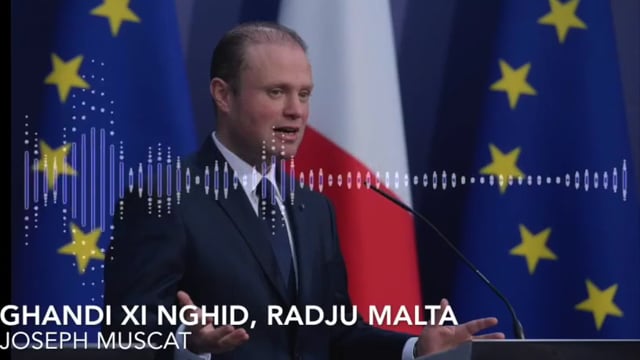 Joseph Muscat moots referendum for constitutional reform
Prime Minister Joseph Muscat is not excluding calling a referendum to have voters give the government the mandate to radically change the Maltese Constitution.
Muscat was speaking on Radju Malta's Ghandi Xi Nghid, where he spoke with presenter Andrew Azzopardi about the upcoming constitutional convention.
"I don't want to jump the gun and say anything that could undermine the good process there is on going now," he said. "I don't exclude holding a referendum if a strong mandate is needed for a totally new Constitution or one with many new elements."
Asked what was keeping the government from getting the ball rolling on promised constitutional reform, Muscat said work was underway behind the scenes to ensure there is a "structure" that all parties are comfortable with, and that could reach the desired goals.
He thanked President Marie Louise Coleiro Preca for bringing the two parties together, and for ensuring that the reform did not adopt a top-down approach, but rather would include all the people that made up the different facets of Maltese society.
Muscat said he was happy to hear that the Archbishop would not oppose the removal of Catholicism from the Constitution, stressing that while Malta was a predominantly Catholic country, the Constitution's wording could do with some changes.
This also applied to issues such as Malta's neutrality, which he said could be worded differently.
Muscat stressed that being a secular state did not mean one that lacked values. "A set of moral values that define a society aren't necessarily tied to one denomination or another."
Muscat said that while he considered himself a Catholic, he also understood that a politician had to rise above his own convictions and ensure that all people could live freely. "The most crucial point in all of this was the divorce referendum," said Muscat. "From that point on it seemed like the country wanted to move with the times."
It's either Steward or VGH
Turning to the ongoing dispute with the Medical Association of Malta (MAM), Muscat said he could not understand the doctors' reasoning. "If MAM were speaking with way when we were signing with VGH I would have understood their position," he said.
The Prime Minister said the MAM had agreed with roping in the private sector to help with the health sector. "It will all be the same except that we'll get Steward instead of VGH, which by the way, was a company that MAM was against because it had no experience," he said, adding that had the government not accepted the transfer to Steward Health Care, the hospitals would have remained under VGH's control.
He said that while the government was willing to discuss ways of improving the public-private partnership in place, it was not prepared to tear up the agreement. "They should have said that two years ago."
Muscat said President Marie Louise Coleiro Preca will be leading the constitutional reform, but did not exclude the involvement of others.
'Can't criticise Konrad Mizzi for not being a doer'
Discussing Air Malta, Muscat said the airline was slowly being turned around and defended tourism minister Konrad Mizzi's role in managing the airline. "Everyone knows the criticism that is levelled against him but nobody can criticise him for not being a doer."
Azzopardi asked Muscat whether June's election had exonerated Mizzi and his chief of staff Keith Schembri over their "morally dubious" offshore dealings, which were exposed in the Panama Papers.
Muscat insisted that Schembri "has a history in business and gave his explanations" but that in the case of Mizzi, a politician, "when the story broke I took action."
Azzopardi chimed in saying that Mizzi being "kicked upstairs" hardly constituted action.
"He wasn't really kicked upstairs. He ended up as a minister without a portfolio, needing to report to me, all of this wasn't easy."
He added that Mizzi was made to resign as deputy leader of the Labour Party. "Everyone conveniently forgets these things. Sanctions were applied."
Muscat said that after Mizzi had published his audit, the party went to the nation who re-elected him.
Crane don't need to curry favour with Schembri
Muscat was also asked about Crane Currency, which this week opened its printing factory in Malta.
He said the company's former CEO had emailed him upon finding out that De La Rue was planning to downsize its Malta operation. "When they decided to open a Malta facility, we decided to ensure there were enough trained workers, by launching an MCAST course."
Asked whether he felt that Keith Schembri had a conflict of interest, given that one of his companies was the local agent for the supplier of Crane's equipment, Muscat pointed out that De La Rue, a company that had been in Malta for over 40 years, also used the same equipment. "It means the machines are very good. He is not making them himself, he only represents them."
Muscat argued that like Schembri, there were many high-ranking PN officials whose law firms provided consultancy services to international companies brought to Malta by his administration. "I don't think a multinational company that prints dollars, needs to curry favour with the chief of staff of the Prime Minister of a country by buying one machine or another," said Muscat.